About Proofpoint
Proofpoint, Inc. is a leading cybersecurity and compliance company that protects organizations' greatest assets and biggest risks: their people. With an integrated suite of cloud-based solutions, Proofpoint helps companies around the world stop targeted threats, safeguard their data, and make their users more resilient against cyber attacks. Leading organizations of all sizes, including more than half of the Fortune 1000, rely on Proofpoint for people-centric security and compliance solutions that mitigate their most critical risks across email, the cloud, social media, and the web. More information is available at www.proofpoint.com.
Media Contact
Estelle Derouet
Vice President, Global Corporate Communications
Proofpoint, Inc.
Proofpoint
@proofpoint

•

23 hours
With attackers targeting people more directly than ever, it's time to build a culture of
#securityawareness
and shape unsafe behaviors. See what our customers are saying about our targeted, data-driven approach to making users resilient.
https://t.co/jE4LfiCjEE
https://t.co/sxBJrieg5P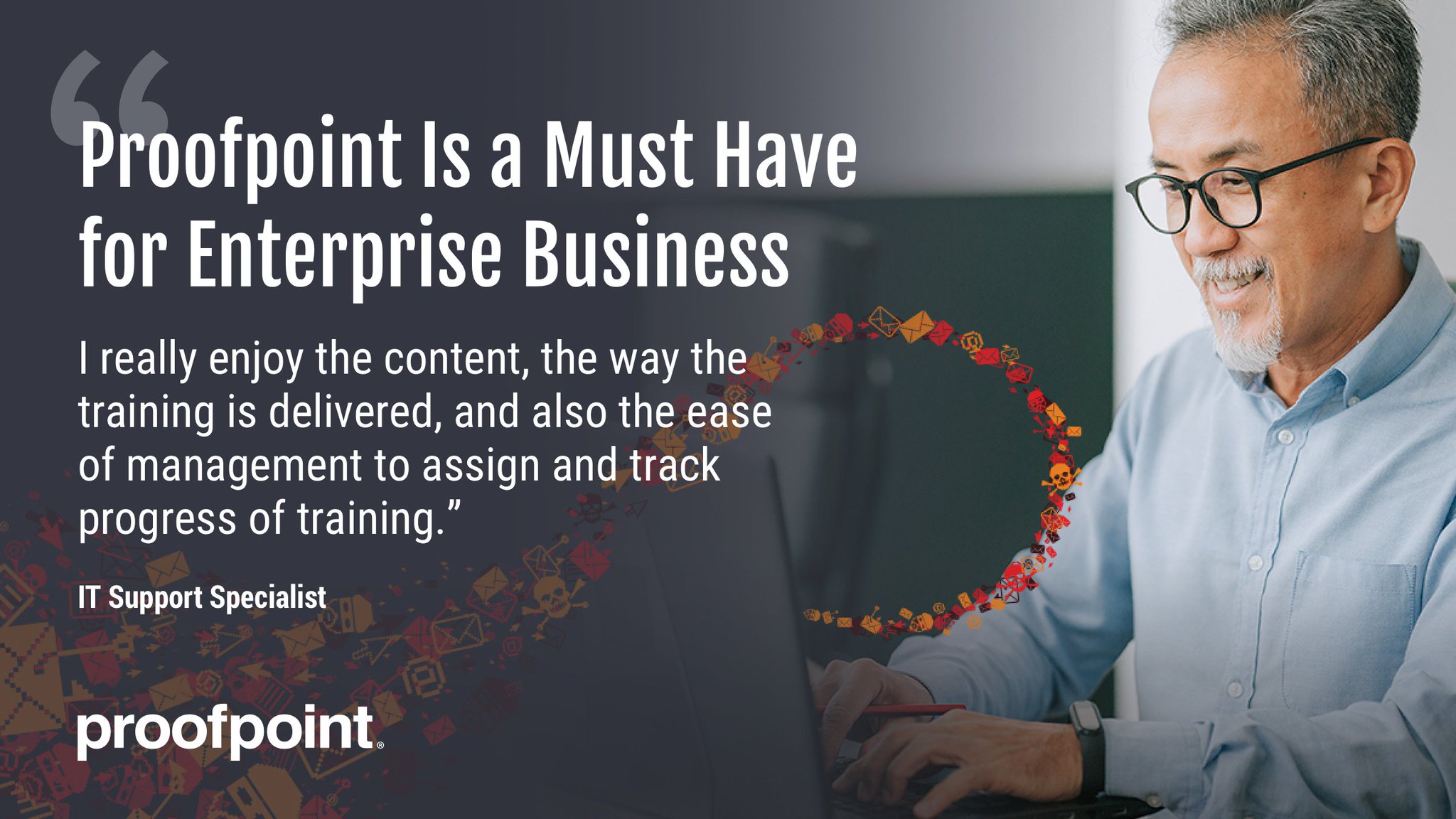 Proofpoint
@proofpoint

•

1 day
Fewer than 50% of
#CISOs
worldwide feel that their organization is at risk of suffering a material
#cyberattack
in the next 12 months. Find out how CISOs from 14 countries feel in our 2022
#VoiceOfTheCISO
report:
https://t.co/UvrLC6LOJZ
#cybersecurity
https://t.co/RAdFQdCocg
Proofpoint
@proofpoint

•

1 day
Fewer than 50% of
#CISOs
worldwide feel that their organization is at risk of suffering a material
#cyberattack
in the next 12 months. Find out how CISOs from 14 countries feel in our 2022
#VoiceOfTheCISO
report:
https://t.co/hjbBIqnkh4
#cybersecurity
https://t.co/a88EltHGKc