On the second and final day of Protect 2022, we welcomed more than 26 external speakers to contribute their invaluable expertise in 20 sessions across four breakout tracks. The Proofpoint team also presented exciting new product updates that empower our customers to stay ahead of today's evolving threats.
Here are five key highlights from yesterday's event. And checkout highlights from day one here.
1. People-Centric Cybersecurity Product Innovations
We revealed a host of people-centric innovations across our entire product line that meet the needs of today's cloud-reliant and remote workforce. Notable updates include:
Advanced Business Email Compromise Behavioral Analysis Defense Protection, powered by Proofpoint's Supernova behavioral engine. Launched a year ago, this detection platform delivers a 2x improvement in BEC detection. With higher fidelity and lower false positives, it stops over 1.5 million BEC attack attempts per month.
Secure Email Relay provides centralized security control and visibility into application email, including 3rd party senders. This new product also protects against data leaks and secure sensitive data by applying payload encryption and DLP to application email.
Intelligent Classification and Protection offers increased visibility to sensitive data in cloud and on-premises repositories to accelerate DLP deployment. Our AI-powered classification includes custom-tailored dictionaries, automated policy recommendations ad file labeling via the integration with Microsoft Information Protection.
Cloud Risk Explorer (Beta), available this quarter, simplifies cloud governance and compliance efforts with more dynamic prioritization and comprehensive discovery of cloud and web apps.
Flag Deduplication, also available this quarter, allows customers to reduce the amount of content for review by avoiding original content that has already been flagged, like replies and forwards. Using Proofpoint's ML engine, this innovation reduces false positives by 84% during data supervisory, reporting and review.
Read more about these product innovations and many more in our press release here.
2. The Voice of the CISO Report Reveals the State of CISO Preparedness
Our 2022 Voice of the CISO, which included survey data from 1400 CISOs from around the globe, revealed that half of the 1400 Global CISOs we surveyed feel unprepared to cope with a cyber attack, despite the growing confidence in their security posture. Global Resident CISO, Lucia Milică led a panel to discuss this finding and others from the report with Patrick Joyce, VP of Information Technology and CISO at Medtronic.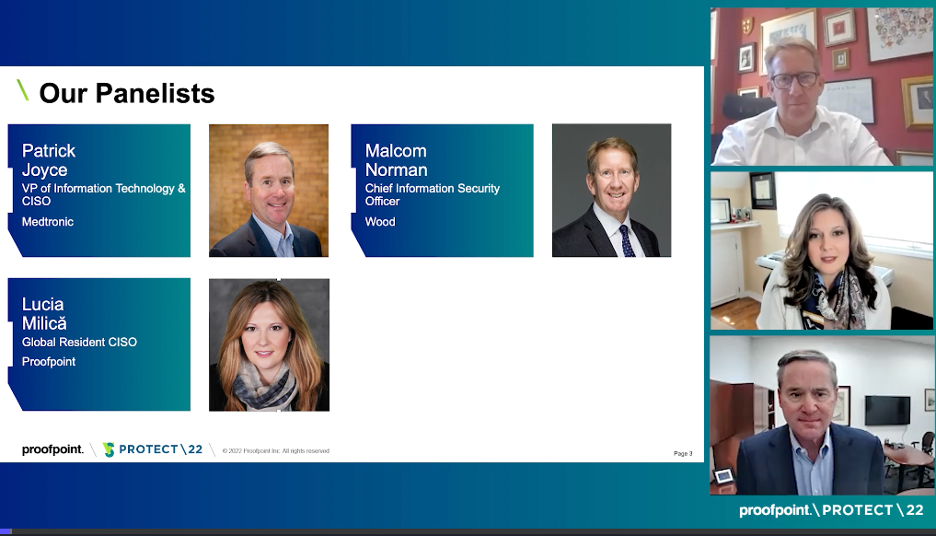 Other topics covered in the CISO track included Cyberinsurance, Board Engagement and Regulatory Landscape. And Cathine Armour, Commissioner of Australian Securities and Investment Commissions, joined us for a specific Asia Pacific CISO session on the regulatory landscape.
3. Customers from around the Globe Discuss their Threat Protection Journey
This year, customers from around the globe joined us to speak in their specific Protect region about how Proofpoint was helping protect their company from people-centric threats.
In the Americas, Baptist Health CISO James Case joined us along with Giles Ring, Director of Cybersecurity at Virginia Credit Union, and Gary Masters, Systems Director-Cybersecurity Engineering at Common Spirit Health.
In EMEA, Ayd Sleiman, Head of Information Security at King Abdullah University of Science and Technology shared his insights. Doug Webster, Product Owner of Unified Communications at KPMG International also presented. Webster, along with Gary Masters, both discussed how adding on solutions like Email Fraud Defense and Secure Email Relay addressed their needs for email authentication, integrity of their external communications and email hygiene of cloud application-generated emails.

In Asia Pacific, Venkat Balakrishnan, CISO of TAL Insurance, Matt Lange, General Manager of Enterprise Security at the APA Group and Mark Bretherton, IT Network and Security Lead at Maribyrnong City Council shared their experiences.
4. Customers Share Their Experiences Adopting Enterprise DLP and Cloud Security
Last year at Protect, we announced our Information and Cloud Security Platform. This year, we were so excited to hear from customers about their journey adopting it. Russ Gordon, CISO at BorgWarner and Stacy Knoup, Director of Engineering at the Principal Financial Group shared how they leveraged the platform to reduce data loss and insider risk in a new remote working environment. Albert Attias, Senior Director of Enterprise Security at Workday and Simon Horn, CISO at Ray White talked to Proofpoint's Brian Reed how Proofpoint empowers them to extend threat and data loss controls.
5. Compliance Product Innovations and Rebrand
Finally, we revealed a brand-new name for our compliance solution that better emphasizes our commitment to providing insights and tools to address our customers' compliance concerns: the Intelligent Compliance Platform. Click here  and navigate to "Reducing Compliance and Legal Risks Effectively: Intelligent Compliance Roadmap" on Day 2 to learn about innovations coming to the platform along with a business update.
Thank you to all our customers and participants who joined us at Protect over the past two days. I encourage you to watch the full on-demand sessions again—or for the first time—by entering your information here. We hope to see you again next year!