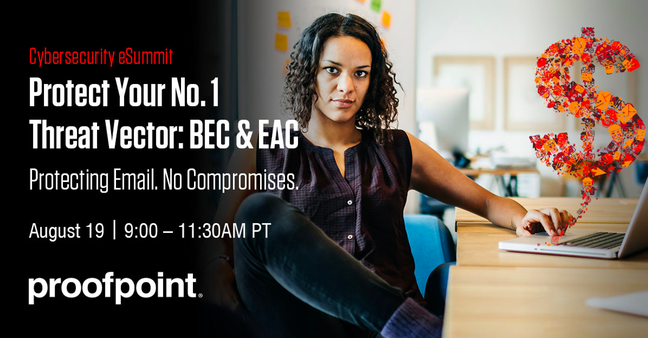 The financial losses associated with Business Email Compromise (BEC) and Email Account Compromise (EAC) continue to rise. The FBI reported losses of almost $1.7B in 2019 alone.
Join top industry leaders for a free online summit of in-depth talks and interactive discussions on the latest in cybersecurity trends for BEC and EAC and how you can better combat this billion-dollar problem at your organization.
How BEC and EAC attacks work
BEC attacks ask the victim to send money or personal information out of the organization. Attackers do this by spoofing a person in authority, such as a CEO or VP of Finance.
In EAC attacks, attackers trick a victim into providing their credentials or accesses an account through other means. If an account is compromised, it can be used to move laterally inside an organization, steal data, or fraudulently communicate with your business partners or customers.
The eSummit details
When: Aug. 19th from 9 – 11:30 am PT / 12 – 2:30 pm ET
The Agenda:
9 – 9:45 am PT: Keynote: Cybercriminal Minds - Evolving BEC Attack Tactics During Shelter-In-place

10 – 10:45 am PT: Client Case Study: Defending Against Email Fraud

11 – 11:30 am PT: BEC Live Demo - Detect & Block BEC Scams with Proofpoint
*The first two sessions are eligible for CPE credit with ISC(2).