There's no substitute for ongoing, in-depth security awareness training when preparing your end users to face the latest cyber attacks. At the same time, you also need easy, effective ways to reinforce key concepts—and keep employees alert to phishing and other threats throughout the day.
That's why, in addition to our award-winning training, Proofpoint provides an extensive library of security awareness materials, including articles, newsletters, posters, infographics, videos and webinars. For the past several months, we've been releasing a steady stream of new materials, from lighthearted, attention-grabbing posters to detailed content that reinforces key cybersecurity concepts.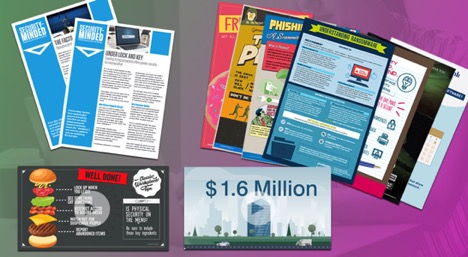 A sample of our latest security awareness materials, available in a variety of styles and themes.
Additions include: 
Over 30 new fun and engaging posters, with more being added each month
Static and animated screensavers
Infographics covering topics like phishing, business email compromise, the Internet of Things and more 
12+ new articles purpose-written for an end-user audience 
Pre-built, customizable newsletters containing high-level information about important cybersecurity topics, such as phishing, passwords and business travel
We've also updated our existing library of posters and translated the content into 20 languages. Most of our new materials will also be translated into the same 20 languages. Customers who license our security awareness materials have access to source files, so they can add their organization's logo, contact information or other custom content.
Would you like to learn more about how you can reduce your people-centric risk all year with Proofpoint Security Awareness Training? Please request a demo and see how we can deliver results for your organization.