Women are highly underrepresented in the field of cybersecurity. The global industry workforce, which was short of approximately 3.5 million workers in 2021, consists of only 25% women, according to a Cybersecurity Ventures statistic cited by the World Economic Forum. Factors such as hiring bias, pay inequality, the lack of female role models and leaders and limited opportunities to advance discourage women from pursuing a career in science, technology, engineering, and mathematics (STEM).
To address this issue, Proofpoint is determined to make a positive impact and has introduced both internal and external programs to raise awareness and support for women in the cybersecurity industry. In May 2023, Proofpoint's Americas Field Marketing team proudly launched Women Who Cyber, an initiative dedicated to bringing together diverse groups of aspiring and thriving cybersecurity professionals for engaging and interactive events. This comprehensive series will take place in nine cities across North America, with plans to announce additional dates, locations, and activities across the U.S., Canada, and around the globe. 
Each interactive event will welcome individuals of all genders, identities, and generations. Attendees will have the opportunity to network with peers, establish meaningful mentoring relationships, share knowledge, and enjoy an experience such as taking part in a mixology class or building a flower bouquet. They will gain insights and inspiration from a panel of influential women who have shattered glass ceilings and continue to pave the way for female leadership and excellence in the industry. 
Today, the Proofpoint Americas Field Marketing team consists of 11 passionate women who enthusiastically embraced the chance to combine their event expertise with the mission of raising awareness about the gender gap in cybersecurity. Women Who Cyber will showcase women in leadership roles who can offer support and encouragement to their female colleagues, while also sharing their accomplishments and experience. This initiative aims to inspire existing female talent and attract future generations of women to the field.
"This event provided a way for me to connect and network with my community in a way I haven't before. We learned that many of us are experiencing similar challenges and obstacles in our careers. The consensus was that confidence is key and this event helped us feel a strong sense of support" said Karen Letain, vice president of product management at Proofpoint and a panelist at the inaugural Women Who Cyber event in Frisco, Texas. "We all know that a more balanced workforce provides a greater variety of perspectives which better equips organizations with the ability to handle a variety of opportunities and challenges. Closing the gender gap in cybersecurity isn't just a moral obligation - it's good business practice."
Women Who Cyber is expected to welcome hundreds of attendees. Members of the community are also encouraged to apply to participate in an event's panel. More information about the events and how to join a panel can be found here. 
The team is already working to expand the series beyond events. As they explore the next phase of Women Who Cyber, they are collaborating with Proofpoint's Diversity, Equity, and Inclusion (DEI) leaders and Women@Proofpoint Employee Inclusion Group. Women@Proofpoint is one of nine Proofpoint Employee Inclusion Groups (EIGs) that launched over a year ago. The group is focused on bringing opportunities in cyber to the forefront, encouraging women to pursue a career in the industry, and fostering a safe and respectful working environment where women feel empowered. In addition to collaborating with various business groups, they've hosted internal fireside chats, networking opportunities, and have partnered with other EIGs to address intersectional needs.
"As the founding executive champion for the Women@Proofpoint EIG, I have had the pleasure of witnessing our programs come to life," says Nitza Daniel, area vice president, named account sales at Proofpoint. "The EIG is recognized and integrated into the fabric of the company and supported by e-staff. The valuable contributions made by our members are resonating both internally and externally, positioning Proofpoint as an employer of choice for women."
Explore career opportunities at Proofpoint.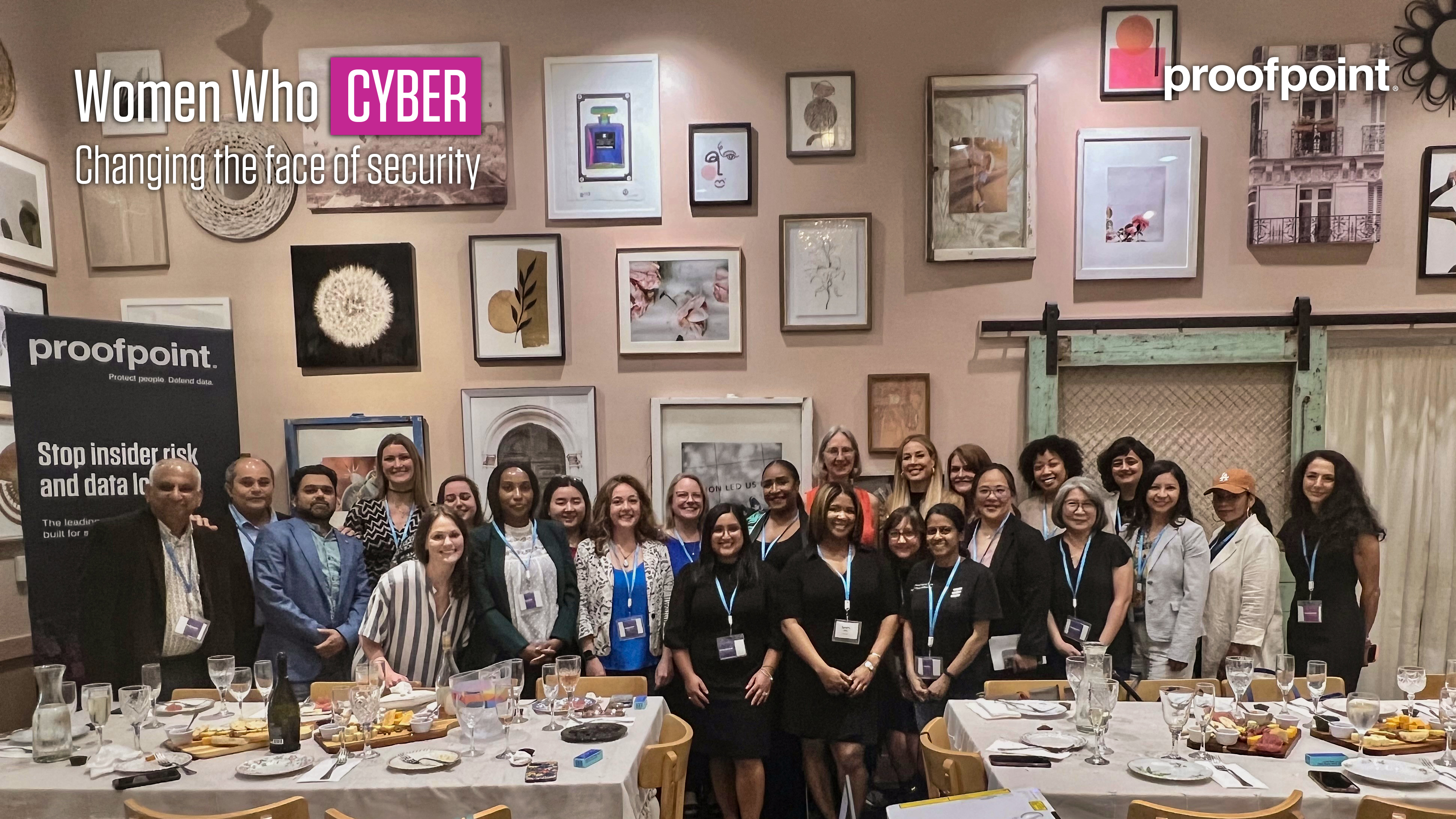 Attendees at Proofpoint's inaugural Women Who Cyber event in Frisco, Texas.