Business Intelligence
Security Awareness Training
---
Measure User Behaviour Change
The advanced Proofpoint CISO Dashboard and real-time reporting provide visibility into user behaviour change.
CISO Dashboard: Gain C-Level Visibility and Admin Actionability
The Proofpoint CISO Dashboard was built to provide you with powerful security awareness insights that are appropriate for your C-level executives. If you're looking to share security awareness training results with your CISO/CIO or other key stakeholders, Proofpoint can help.
In the score summary section of the CISO Dashboard you'll find: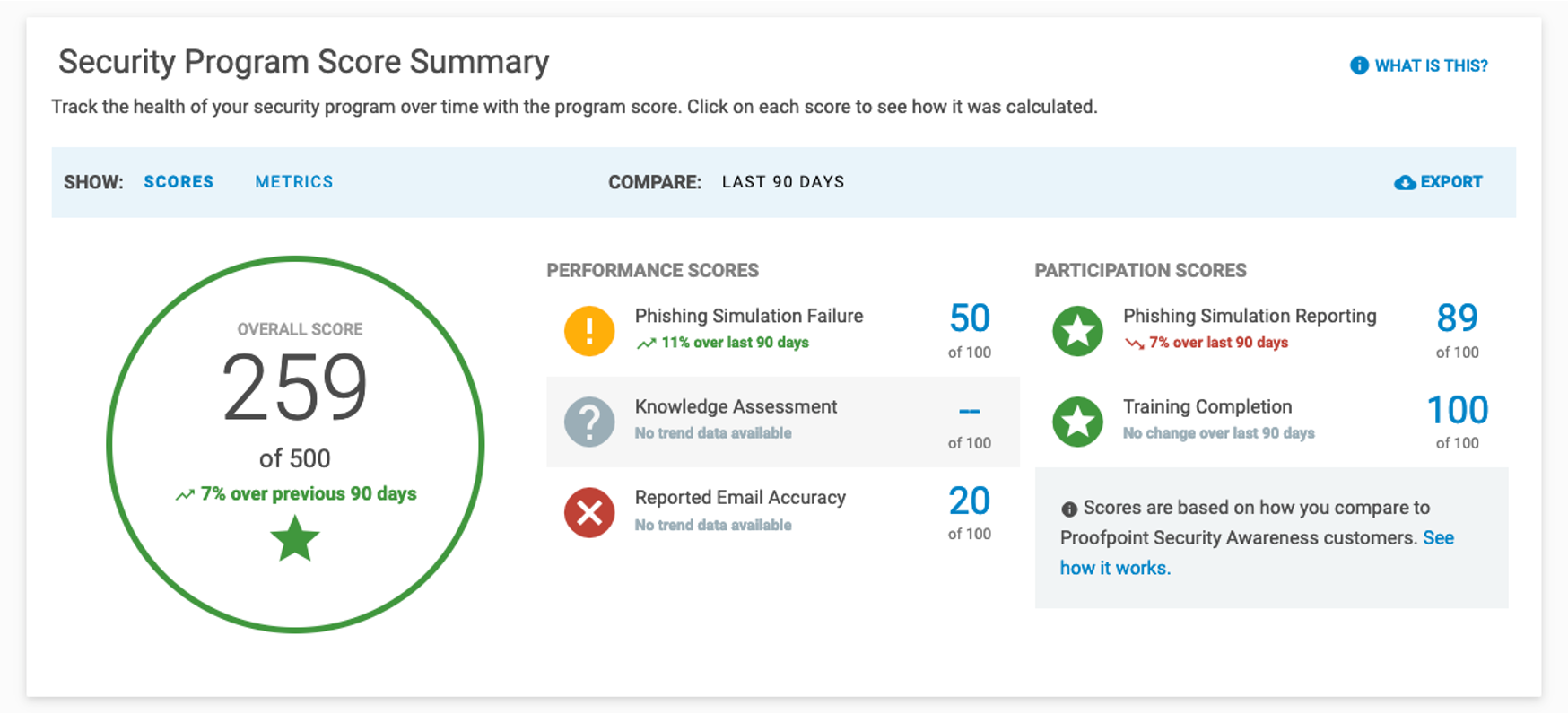 Your overall programme score
Performance of the different components of your programme
How you compare to others in your industry
Areas of focus needed in your programme
This allows you to understand at a glance where your security awareness training programme needs attention. And it provides you with simple, stoplight-style icons for each area. This gives you a better way to take action for further improvement.
You can also understand at a glance how your programme is improving in different areas over time, and you can compare these results to your peers.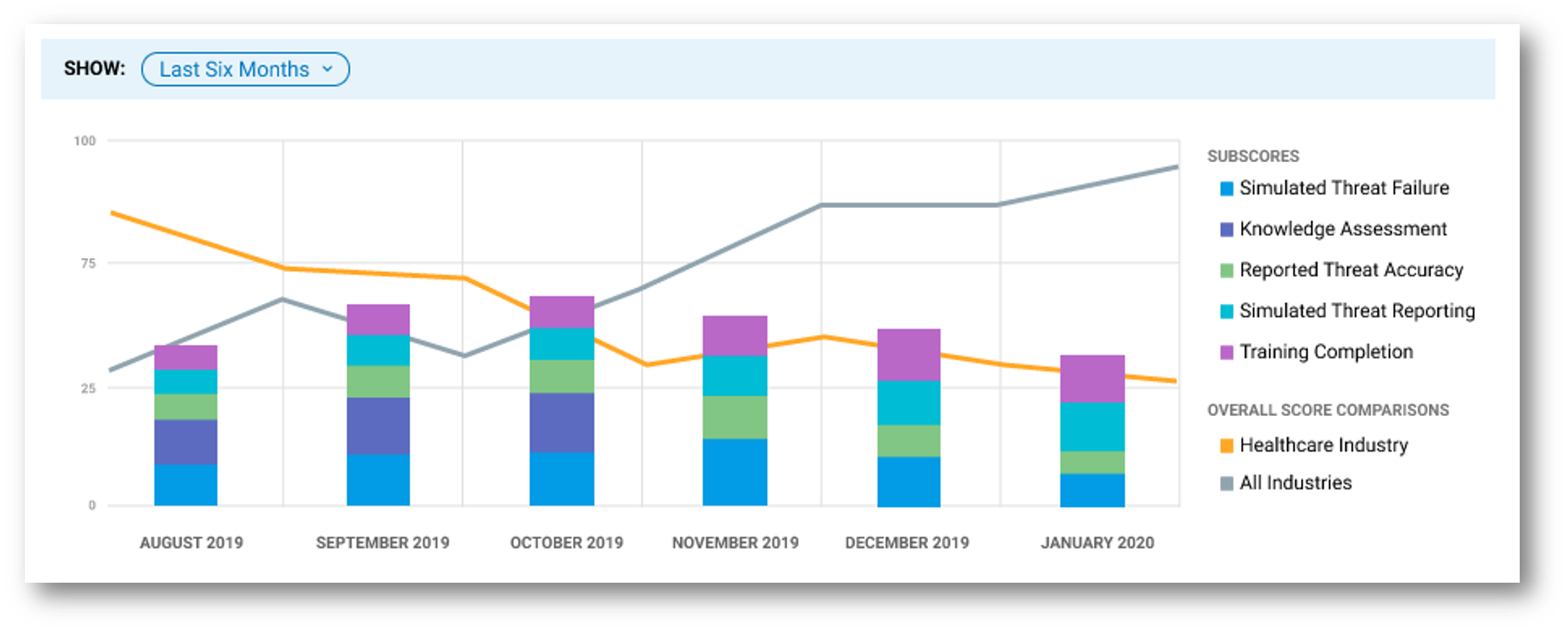 CISO Dashboard: Understand User Vulnerability and Prove Resilience
User vulnerability is a key component of people-centric risk. We put vulnerability information together so you can quickly see risky user populations and take action to educate and protect them. You gain powerful insights into what ways your users are vulnerable. And you get insight into the metrics that compile user vulnerability. These include: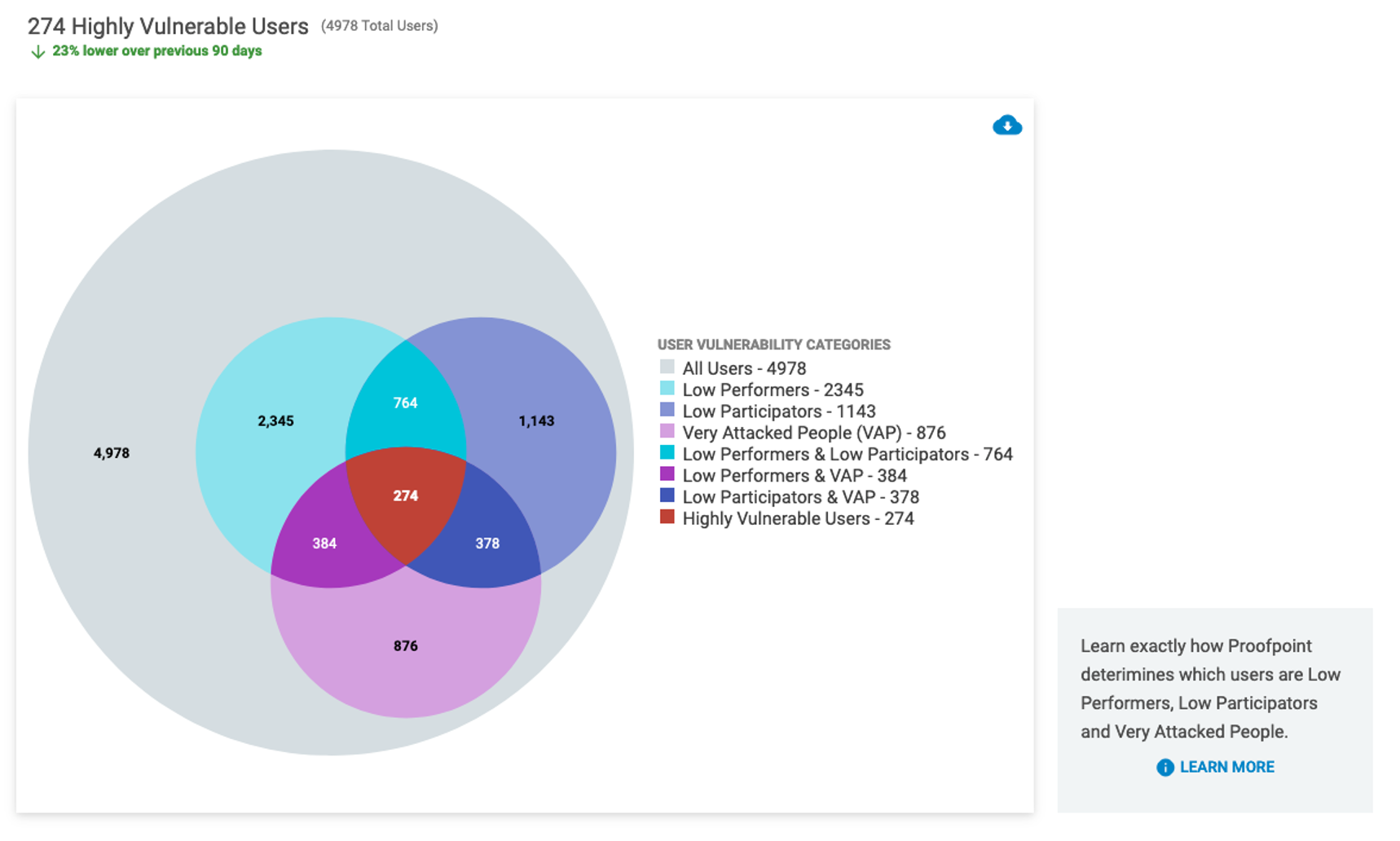 Low Performers
Low Participators
Very Attacked People™ (VAPs)
Information about Very Attacked People is included when you have Proofpoint Targeted Attack Protection in place. It shows you vulnerability based on which of your users are being targeted by real attacks. This goes beyond standard performance in security awareness metrics.
If your organisation has a Proofpoint P1 or higher bundle, data from Proofpoint Security Awareness Training is included in our Nexus People Risk Explorer. This allows you to better understand and mitigate your people-centric risk.
As a Proofpoint Security Awareness customer, you not only know if users are reporting their simulations, but how good they are at reporting suspicious messages. Every message they submit is scored using Proofpoint threat intelligence, sandboxing, and detection engines. This gives you the ability to see in aggregate how your users' reporting skills are improving.
Real-Time Reporting: Improve Insights, Now
Getting stakeholder insights quickly can help you alleviate concerns, demonstrate progress, and focus more on your programme strategy. Our new real-time reports mean there's no more waiting for results. And these reports cover everything from phishing simulations to training assignments.
You can use this data to:
Get a fast, high-level view of progress on a specific assessment or training assignment
Demonstrate completion for compliance or audit purposes
Export a report quickly for a last-minute meeting or request from a stakeholder
Take action on users who are overdue in an assignment
Better Visibility: Use Proofpoint threat intelligence and people-centric data to better understand your user vulnerability—and take action.
Real-Time Insights: Need to know what's happening right now with your programme? Our real-time reports mean you get up-to-date insights, fast.
Benchmarking: Benchmark your performance against other Proofpoint customers and your industry. See how you perform and your percentile rankings in each category.
Report Scheduler: Schedule automatic delivery of reports at regular intervals to yourself, your managers and your designated stakeholders.
Custom Properties: Create custom fields, such as department, region or country. And then use them to search and filter reports.
Results API: Use our REST API to access training, phishing, knowledge assessment, users, and email reporting information that can be integrated in common BI tools or LMS.
"We showed our leadership already, and they love what they see."
Director - Fortune 100 Technology and Entertainment organization
"The CISO dashboard looks far more useful and is slowly becoming the promised masterpiece of trend analysis."
CISO - Multinational Manufacturing organization
"I like this dashboard. It took some time to understand initially but the, 'What is this?' made it clear."
CISO - Leading Professional Services organization
"I would recommend this product to anyone looking to educate and train with the functionality of customization and extraordinary reporting abilities."
Cybersecurity Analyst - Fortune 500 Healthcare organization