Wombat CyberStrength® Knowledge Assessments have long given organizations the ability to evaluate their employees' cyber security knowledge about a wide range of general topics as well as company- or compliance-specific policies. The introduction of our seven new Predefined CyberStrength assessments enhances our existing product and helps streamline the evaluation process for administrators of security awareness training programs.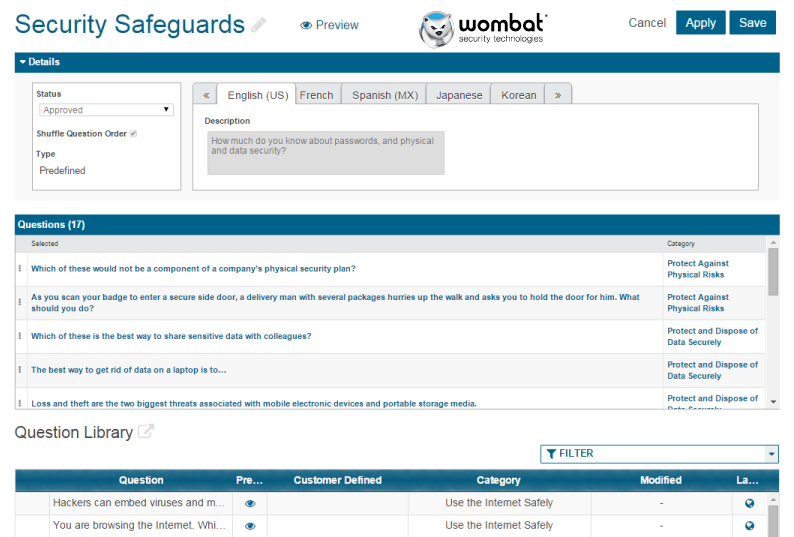 CISOs, CSOs, and infosec teams continually seek ways to stay a step ahead of their cyber adversaries, and they face mounting pressures to gauge and address areas of susceptibility within their organizations. While services like simulated phishing attacks help identify vulnerability, they don't actually measure knowledge — and they cover only one threat vector. In contrast, CyberStrength allows organizations to assess employees' understanding of phishing attacks plus a range of additional relevant cyber threat areas.
With the addition of our Predefined CyberStrength options, we've incorporated a "click and go" type of functionality into our Security Education Platform, simplifying planning and delivery of targeted assessments and education. Each of the seven predefined assessments includes 10 to 15 evaluation questions about a key threat vector. Topics covered include phishing; passwords and other security safeguards; mobile devices and security outside the office; online safety; protection of personal data; and PHI and PCI DSS compliance.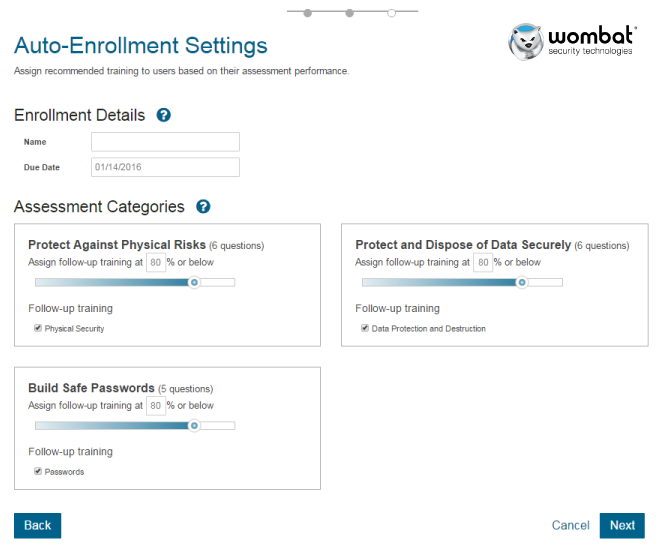 We've also made it possible to automatically deliver follow-up training based on results of the Predefined CyberStrength assessments. Administrators have the flexibility to set a proficiency score for each assessment, and choose the module(s) they'd like to assign for follow-up training. Our unique Auto-Enrollment feature can automatically deliver a training assignment to any user who falls below the predetermined proficiency score.
Speaking about the launch of Predefined CyberStrength, Wombat President and CEO Joe Ferrara said, "We know the importance of awareness and training initiatives, but we also know that security teams battle time and resource constraints on a daily basis. By adding predefined assessments to our award-winning CyberStrength product, we've streamlined the employee evaluation and training process for our customers. These are the types of enhancements we continually seek, and I think it's a good example of why we've been recognized by Gartner as a leader in the security awareness and training market."
CyberStrength Knowledge Assessments are a valuable tool for evaluating organizational vulnerabilities across a range of relevant and prevalent threat vectors. To learn more about incorporating this tool into your cyber security education initiatives, request a demo.