This week, The Radicati Group published their 2020 Market Quadrant Report for Secure Email Gateways. Their analysis of the secure email gateway market indicates:
The market for email security continues to grow "as email remains a leading vector for malware attack and penetration," and
Email security is expanding beyond gateway-only defenses as vendors increasingly integrate capabilities such as data loss prevention, email encryption, extended detection and response (XDR), advanced threat prevention (ATP) and user awareness training.  
We're pleased to announce that Proofpoint was identified as a "top player" in the Radicati Secure Email Gateway Market Quadrant report. In this year's report, Proofpoint moved further up in both Functionality and Strategic Vision compared to the 2019 report while other vendors such as Symantec, Mimecast and Barracuda dropped down in both aspects. Because email is the number one threat vector and where 94% of breaches start, organizations need to invest in a holistic approach for email security.  
Proofpoint's market-leading email security solution delivers a comprehensive solution to stop phishing and business email compromise (BEC), email account compromise (EAC), automate abuse mailbox analysis and remediation, prevent data exfiltration and provide security awareness training.  
Here's what Proofpoint delivers:
Comprehensive protection against advanced multi-stage threats, BEC and EAC
Proofpoint protects your people by delivering a solution that prevents, detects and responds to advanced multi-stage threats such as Ryuk ransomware attacks. We block email threats with multiple detection techniques to prevent malicious content from ever reaching users via attachments and URLs. 
Proofpoint has been leveraging various AI and machine learning techniques for over a decade to provide the most comprehensive detection that guards against BEC and EAC. Our NexusAI engines analyze trillions of datapoints and adjust our models to address changing attacker tactics. We apply computer vision, natural language processing (NLP), behavior analytics and more to:  
Analyze multiple message attributes, including message bodies, to identify impostor messages  
Identify URLs and web pages used in phishing campaigns 
Detect anomalous user activity in cloud accounts 
As an added layer of protection, we provide browser isolation. Unique to Proofpoint is the ability to apply browser isolation as a risk-based adaptive control. For example, you can implement a policy to isolate all URL clicks for your Very Attacked People (VAPs), delivering stronger protection for your riskiest users. 
Visibility into your greatest risk—your people
Modern email threats exploit human nature. They often rely on the person being targeted to activate the attack. Your security teams need to know who your Very Attacked People (VAPs) are and Proofpoint provides this visibility. You can receive in-depth forensics on how they're being attacked, whether they click on or report phishing, how they respond to simulated phishing, and whether their cloud accounts are compromised. By better understanding your VAPs, you can then prioritize the most effective ways to resolve threats. For example, you can use these insights to apply adaptive security controls around your users to reduce the risk of a breach (i.e. enroll them in specific training, deploy browser isolation).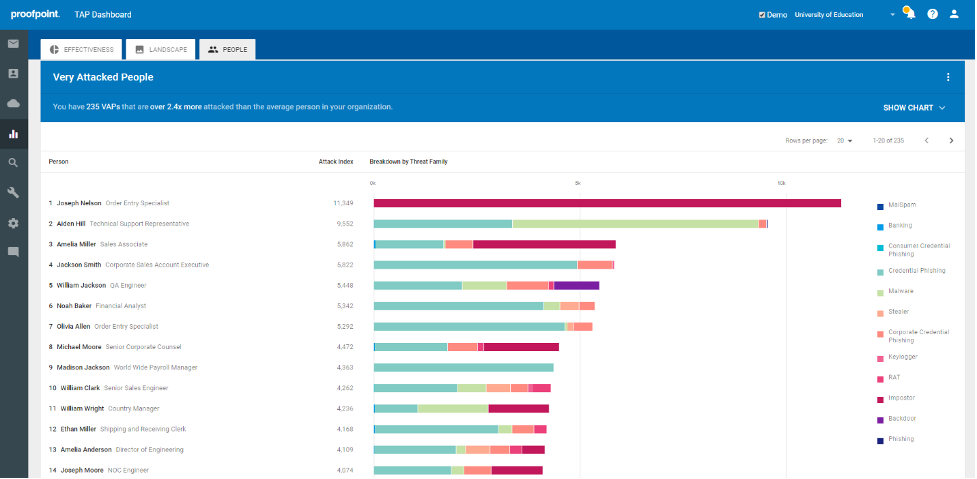 Figure 1 - VAP Dashboard
Automated abuse mailbox analysis and remediation
Proofpoint allows you to remove malicious and unwanted messages post-delivery, as well as unwanted email from internal accounts that are compromised. You can identify all instances of the malicious email across your organization and remove them all with just one click. This action can also be automated, even if it was forwarded or received by other users. The major benefit is that Proofpoint saves organizations a significant amount of manual work and reduces the time to remediation. 
Integrated security awareness training
Proofpoint's market-leading security awareness training helps you address the human layer of protection. We help companies reduce phishing attacks by up to 90 percent and cut malware infections by 40 percent. 
Unlike other solutions, our security awareness training utilizes Proofpoint's best-in-class threat intelligence to deliver highly effective and focused education. For example, you can automatically import "Very Attacked People" and "Top Clickers" into the security awareness platform and assign appropriate training. And our phishing simulation utilizes real phishing lures spotted "in-the-wild" by Proofpoint threat intelligence. 
We also allow users to easily report suspicious phishing emails to an abuse mailbox, with a single click, using either the PhishAlarm® button or via email warning tag. Email warning tags provide interactive, color-coded visual cues that alert users to take extra precautions with a specific message, automating reporting, analysis and remediation of potential email threats reported by users.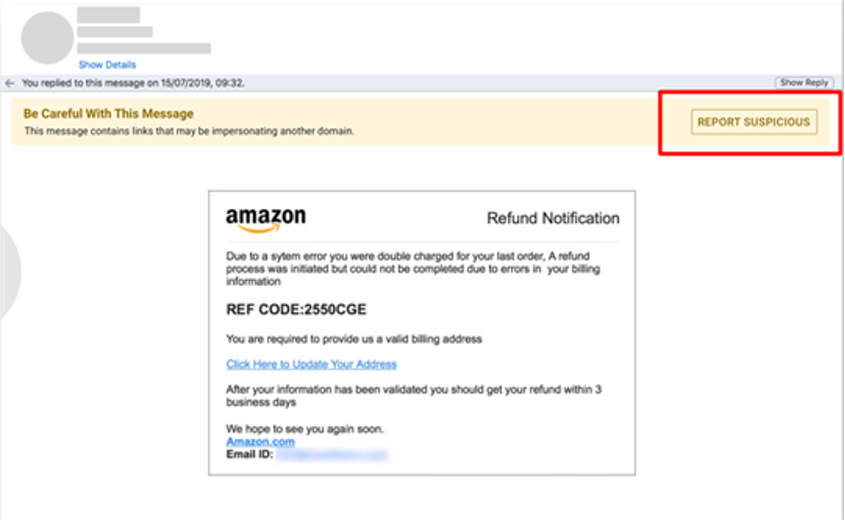 Figure 2 – Email Warning Tags available to end-users
Download the report today to learn more about why Radicati recognized Proofpoint as a Top Player.