At Proofpoint, our people—and the range of their experiences, backgrounds, perspectives, and work skills—drive our success. We embrace and foster the diversity of our team members, customers, and stakeholders. Everyone is valued and appreciated for their lifestyles, thoughts, and talents, all of which contribute to the growth and sustainability of our business and the strength of our communities.  
Proofpoint Employee Inclusion Groups (EIGs) are structured, employee-led organizations that are formally recognized and integrated into the fabric of the company, cultivating compelling conversations, workshops, and activities that empower our employees to learn from one another and express their authentic selves.  
Our Veterans EIG aims to provide an environment that encourages others through shared experiences and fosters support across recruitment, career development, community outreach, professional growth and retention initiatives. 
November is observed as National Veterans and Military Families in the United States and Remembrance Day globally. To help celebrate and honor members of our Veterans EIG, we are spotlighting several of them in a blog series this month. 
Hear from the author:  
Garrett Guinivan, Senior Sales Engineer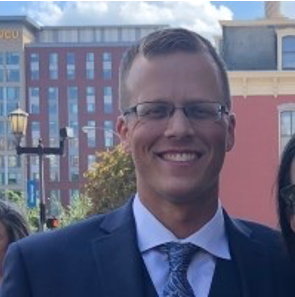 What is your primary job in the military? Share a bit about your time.
Alongside my full-time job here at Proofpoint, I am also currently a Cyber Threat Intelligence Analyst for the Army Cyber Protection Brigade in the Army Reserves. In several cyber analyst positions, I have been assigned to the 335th Signal Command since 2016. I entered the military through Reserve Officer Training Corps (ROTC) program at Indiana University through a critical language scholarship in 2012. I learned Arabic and Farsi at Indiana while pursuing a master's degree. After attending Indiana from 2012 to 2014, I was commissioned a Second Lieutenant in the Army in December 2014.
I was first assigned a platoon leader to an Army Reserve unit in Fort Carson, Colorado. Here I learned a bit more about leading and had a great unit. I got to lead unbelievably smart soldiers and non-commissioned officers, and I was luckily surrounded by great leadership and people.  
In 2016 I moved to a cyber unit in the 335th signal command. I have done various roles inside of this command up until the present. I have trained soldiers in cyber threat intelligence functions, supported a high visibility mission, and briefed a wide variety of leadership on cyber functions.
One of the biggest highlights of my career so far is the great and talented people I have known in the Army.
What leadership qualities did you learn in the military that have helped guide you through your life and career?
The military has truly opened up so many opportunities for me and placed me in situations and places I could never have done. I grew up in a rural town in Maryland, and joining the military helped me meet people I would never have if I had stayed in my area.
It sounds simple, but leadership, the ability to speak with others and overall people skills are vital.
Public speaking and the ability to give concise presentations and briefings are key skills; many individuals in the cybersecurity world do not realize this critical skill. Going through officer training forced me to speak in front of crowds and get comfortable briefing on various topics. I must brief nearly every day to a wide range of people (keyboard guys and gals, mid-management, government leadership and sometimes even Board or Congressional level-leaders).
One of the coolest aspects about the Army is that you meet people from all parts of the United States. I have worked with people from all across the country of every background. Not only have I learned how to interact with a wide range of people, but I can also more easily recognize my own bias, privilege and circumstances.
What is one of your favorite attributes about the Veteran community? 
I love the sense of purpose of the Veteran community and our ability to not take each other too seriously at the same time. The larger cause of defending the nation is behind every service member when they take an oath. Still, you won't find another community willing to poke fun at each other's service or group any harder than Veterans.
For example, I have a friend in the Air Force who jokes about the Army being the janitor for Air Force, but in the same sentence, I know he would drop what he is doing to help my family in time of need or vice versa.
This is highlighted by the yearly Army-Navy game, where each service will ridicule each other mercilessly because the game means a lot, but at the end of the day, both services serve one team.
What about the Proofpoint culture helps you feel supported and accepted?
I fully believe I can have a career at Proofpoint and have balance. Even before the pandemic, my ability to work remotely has changed my life for the better. Like the military, I am surrounded by incredibly smart, passionate and driven people.
The different Employee Inclusion Groups (EIG) at Proofpoint help everyone feel like they have a smaller group they can be a part of, in addition to their normal team and group.
Even though we are a mid-size company, Proofpoint offers many opportunities for growth and variety. I recently moved from the Proofpoint Threat Intelligence (PTIS) Service group to a Senior Sales Engineer role with our Federal team. This is a great growth opportunity for me and likely wouldn't be available in many other companies.
One of the best pieces about this is my old leadership supported my decision, and I still work almost daily with my old team. I had team members and leadership in my old position reach out to me and tell me I always have a place if I want to return. I truly believe and know that to be true.
Learn more
To learn more about Proofpoint and our employee culture, follow Life at Proofpoint on Twitter and Instagram. Follow Proofpoint on LinkedIn and Facebook.
#LifeAtProofpoint