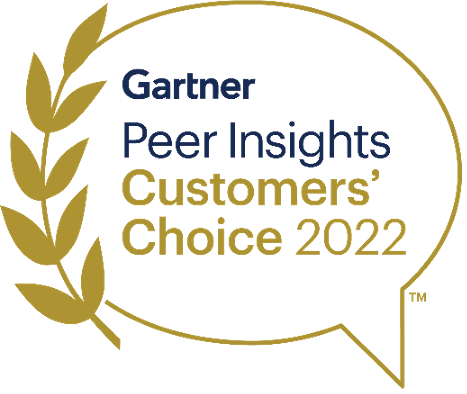 We are delighted to announce that Proofpoint has been recognized as a Customers' Choice in the 2022 'Voice of the Customer': Security Service Edge (SSE) category on Gartner® Peer Insights™.
We are proud that the Proofpoint Cloud App Security Broker (PCASB) has been recognized in Security Service Edge. We received an overall rating of 4.5 out of five with 75 verified customer reviews, as of May 31, 2022. In addition to helping Proofpoint earn its Customers' Choice distinction, our customers have honored us with a "Willingness to Recommend" rating of 88% (as of May 2022).
These customer reviews provide us with valuable feedback that helps us continue to innovate and evolve our Information and Cloud Security Platform, providing organizations with the ability to protect sensitive data no matter where their users are, what device they are using, and wherever their data resides: on the web, cloud, and private applications.
Below are some quotes from customers that contributed to the 2022 Gartner® Peer Insights™ Customers' Choice for Security Service Edge:
"Proofpoint Cloud App Security Broker (CASB) is one of the best software solutions that helps to protect our cloud accounts securely. This is really helpful to protect cloud applications such as Microsoft Office 365 and Google's G Suite. It allows us to detect and investigate cyber threats that access sensitive data and trusted accounts. It also provides people-centric visibility to emails." - Software Engineer, IT Services.
"Proofpoint Browser Isolation is the product we installed we have other products through Proofpoint but this review is specifically for the Isolation Browser. This has decreased our threat landscape by routing users who click on links in emails to the isolation browser. This also helps maintain control as to what users upload/download. Whitelisting functionality allows us to bypass sites that we have reviewed and our users need access. The vendor was easy to work with and responsive to needs when they arise making our deployment experience great."- DR Coordinator, Provider.
"I'm familiar with Proofpoint for many years using their email security and web security services. Proofpoint is one of the top security vendors in my perspective. We're using their Web security to secure our remote staff as most of our employees are working remote, we needed to make sure that no threat will reach the organization. Proofpoint SWG is a great solution, filtering malicious websites, Phishing, malware. The Browser isolation capability is great. Proofpoint provides a complete set of security suite which I highly recommend to check out and improve the organization's overall security posture." - Cyber Security Specialist, Media and Publishing.
A people-centric approach to securing cloud environments
As organizations adopt cloud infrastructures to support their remote and hybrid work environments, they must not forget to focus on protecting people and defending data. And with employees using personal devices and unmanaged apps for work, critical infrastructure and data increasingly reside in the public cloud. As such, a modern approach is required; one that leverages a set of supporting technologies to segregate users' personal apps from corporate apps, and the inevitable mixing of data between personal and work environments.
In this changing environment, enterprises must take a people-centric approach to cloud security and protecting their data – so users can securely access the web, cloud services, and private apps. This requires not just one, but a combination of solutions. This combination should include access controls, threat protection, data security, app governance and zero-trust policy controls.
The Proofpoint Advantage: Securing cloud information, not just access
To secure user and data activity across endpoints, these controls must be enforced by sensors across all channels, and must be backed by a common analytics, investigation and policy-management platform. Our cloud-native Information and Cloud Security platform combines many of our products to address secure access, as well as data loss prevention (DLP) and insider-risk use cases.
With Proofpoint's Information and Cloud Security platform, customers can:
Gain people-centric visibility into cloud risks: Identify your top users at risk and monitor for alerts with our powerful analytics dashboard. Use Nexus People Risk Explorer for security control recommendations to mitigate the risk of cloud account compromise and malicious files.
Gain forensic insights and automate threat and data protection: Automate your security response with flexible policy controls, customizable alerts, and threat correlation.
Enable safe access to the web and cloud applications: Apply advanced threat protection and dynamic access controls, including browser isolation, without hampering user productivity.
Protect data against threats and negligence: Discover sensitive data in the cloud and reduce data exposure. Prevent data loss and ensure compliance with inline data controls when users browse the web or collaborate using cloud applications.
To all our customers who submitted reviews, thank you! Your feedback helps us create better products to fit your needs, and we look forward to earning the trust and confidence reflected in this distinction.
To learn more about web threats targeting organizations today, read our latest report in collaboration with the Cloud Security Alliance (CSA).
Gartner, Gartner Peer Insights 'Voice of the Customer': Security Service Edge, Peer Contributors, 3 August, 2022
The Gartner Peer Insights Customers' Choice Badge, Gartner®, and Peer Insights™ are trademarks of Gartner, Inc. and/or its affiliates. All rights reserved. Gartner® Peer InsightsTM content consists of the opinions of individual end users based on their own experiences, and should not be construed as statements of fact, nor do they represent the views of Gartner or its affiliates. Gartner does not endorse any vendor, product or service depicted in this content nor makes any warranties, expressed or implied, with respect to this content, about its accuracy or completeness, including any warranties of merchantability or fitness for a particular purpose.