The most effective security awareness and training programs give administrators the ability to gauge progress, identify successes and failures, and use that data to improve decision-making. As we noted in a recent blog post, we feel measurement is a key component to any cyber security education program. And we practice what we preach: reporting is one of the foundational elements of the Wombat Assess, Educate, Reinforce, Measure methodology.
It's also important, however, that reporting functionality change with the times. As devices, systems, and networks become more sophisticated, measurement techniques should follow suit. We've worked with our customers to identify the types of data and capabilities they're looking for, and we're excited to introduce the first in a series of dynamic reporting tools that will give them more flexibility and help them take measurement to the next level. These new, fuller-featured dynamic reports give administrators additional insights into users' interactions with our PhishGuru® simulated phishing attacks and PhishAlarm® reporting button.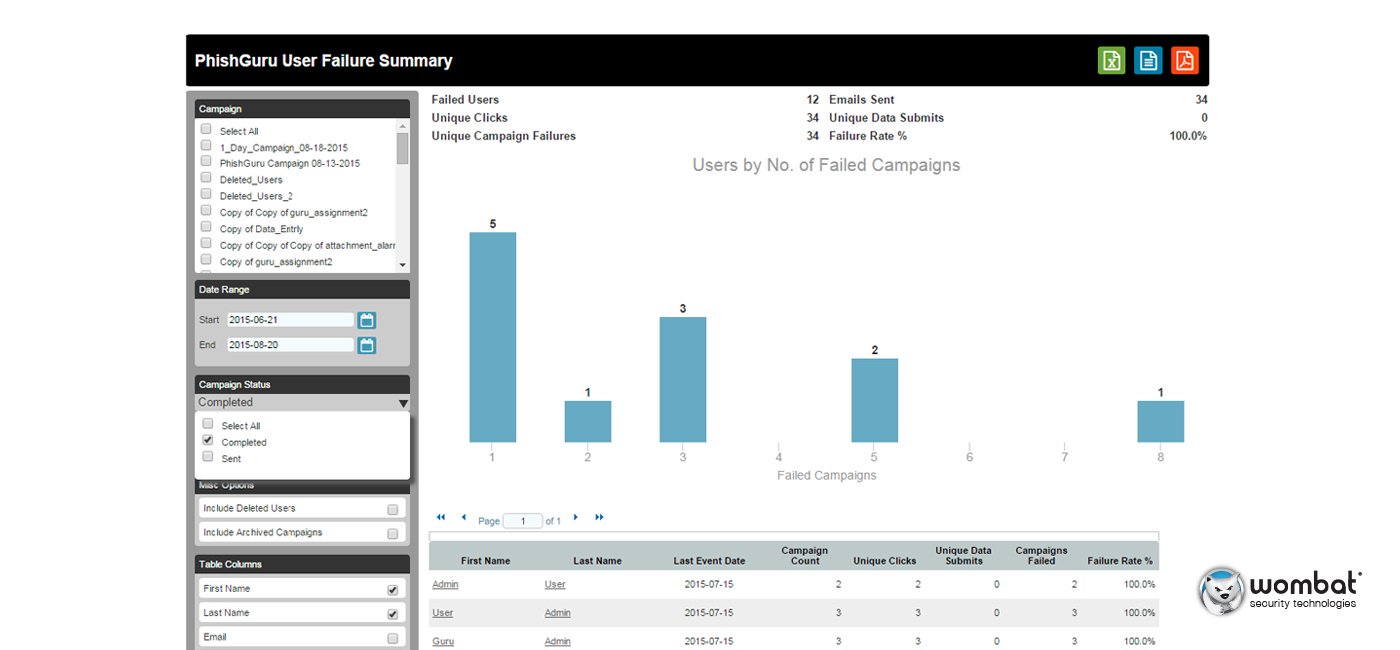 Dynamic PhishGuru reporting allows admins to easily filter data, quickly add and remove measurement factors, and compare "campaigns" (i.e., mock attacks that have been sent to users). The dynamic reports provide access to a wide range of data and functionality:
Our PhishAlarm email reporting button allows your employees to alert your IT and incident response teams to suspicious messages with a single mouse click. As a component of our PhishGuru product, it is a natural extension to awareness and training; it enables your users to put their newfound knowledge to work in protecting your organization and reinforce good behaviors over time.
In order to allow administrators to more closely track the effectiveness of PhishAlarm, we developed a dynamic report that highlights the key factors related to this important tool:
Using this report, you can determine which users reported which types of emails and identify those users who successfully spotted and reported simulated and actual phishing emails.
These PhishGuru and PhishAlarm options are just the tip of the Wombat dynamic reporting iceberg. We will regularly be releasing new, advanced reports to improve measurement across all components of the Wombat Security Education Platform. Visit our website to view the comprehensive list and descriptions of dynamic and classic reports that our currently available for our assessment and training products.