Threat actors now increasingly target people within organizations rather than systems or infrastructure. To both understand how their organizations are being targeted and to combat the threats effectively, security teams must shift to a people-centric approach.
But there is no one-size-fits-all strategy—some people and departments require more protection than others. And who those people are might surprise you. While most organizations focus their security around their VIPs and top executives, Proofpoint has found that these individuals might not actually be the Very Attacked People (VAPs) cyber criminals and other adversaries target.
We're excited to announce that Proofpoint has launched a new feature within its Targeted Attack Protection solution to help: the Attack Index.
What Is the Attack Index?
The Proofpoint Attack Index empowers security organizations to identify targeted people and surface critical threats above the noise of threat activity they see every day.
"Proofpoint is the first company to integrate a people-centric view into their security platform," said Ryan Kalember, senior vice president of Cybersecurity Strategy for Proofpoint. "Through the Attack Index, security teams can easily identify their VAPs and put in place a plan to better secure those users."
How Does It Work?
The Attack Index is a weighted composite score of all threats sent to an individual in your organization and scores threats based on four key factors:
Threat actor sophistication;
Spread and focus of attack targeting;
Type of attack (i.e. credential phishing, RAT, banking trojan);
Overall attack volume.
What Are the Key Benefits?
The Attack Index provides several benefits for our customers. Now, users can:
Easily identify the most attacked people in the organization, a viewpoint that was not previously possible
Implement different policies and controls for different employees based on how they are being targeted
Identify the most malicious threats targeting their organization and specific employees via the Threat Severity Scoring system
Use the VAP viewpoint and the targeted functions within their organization to communicate risk to senior management and the Board of Directors in a concise and clear way
No other vendor offers this people-centric visibility and security like Proofpoint does. We are thrilled to be able to give our customers access to this critical information that will help them keep their organizations more secure from threat actors targeting them.
What's the Cost?
The Attack Index is a no-cost addition to your TAP investment and is available to all TAP customers right now. Simply click the "People" icon highlighted below and you will be able to view the Attack Index for your organization: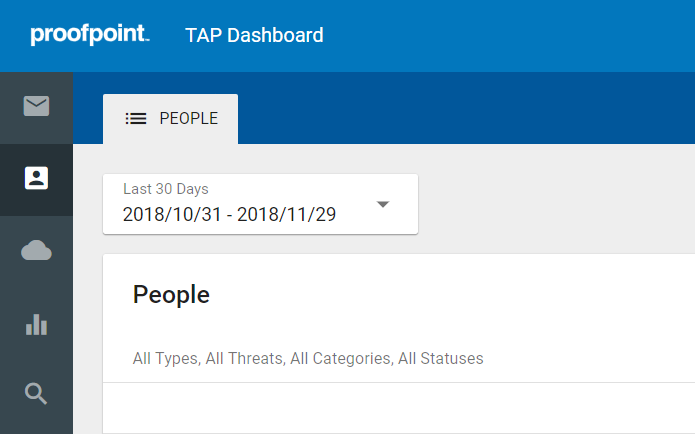 For further information on the Attack Index and how it can help you identify and protect your VAP's, please contact your reseller or Proofpoint sales team.
Subscribe to the Proofpoint Blog