Coming together to protect against targeted ransomware attacks
The Proofpoint and SentinelOne technical integration provides our joint customers with the ability to protect their people and their devices from today's most sophisticated ransomware attacks. You get enhanced security benefits and expanded visibility, as well as the benefit of having two best-of-breed solutions—at no additional cost.
Post-delivery protection and automated remediation
Proofpoint Targeted Attack Protection (TAP) shares observed threat information with  SentinelOne. This provides you with enhanced  security to protect your people, both through email and the endpoint. When TAP detects that a malicious file has been delivered via email, the message details are shared with SentinelOne where it applies additional security controls to the endpoint for multilayered protection. 
Those controls may include:
Searching endpoints for the malicious file, stopping processes and quarantining files if needed
Adding the file hash to a SentinelOne watchlist or Storyline Active Response (STAR) rule for custom detection and response logic
Network isolating the endpoint
Moving the endpoint into a different policy group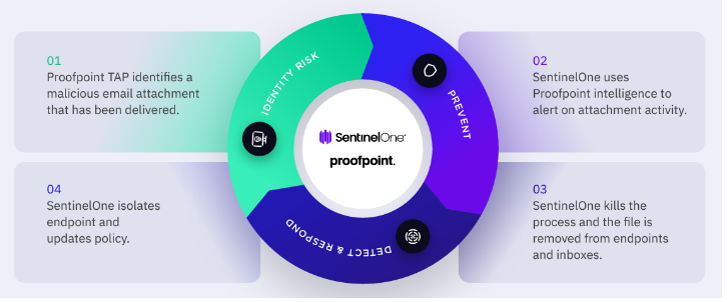 By using these best-of-breed integrations, you can identify more threats, protect your users and automatically respond to potential threats to your endpoints. This means less risk and less time spent resolving and recovering from incidents.
Real-time insight on threats to help you prioritize and act on them
Email threats are constantly evolving. Proofpoint TAP evolves with them to detect and resolve new threats as they arise.
Watch the Demo