Cloud-Delivered Network Security
Cloud Security
---
With Proofpoint Zero Trust Network Access (ZTNA), you can provide an always-on network security solution for your employees. This includes a software-defined perimeter for your corporate assets and a cloud-delivered network security stack for internet access. What's more, you can choose solutions from leading industry partners.
Cloud-Delivered Security Solutions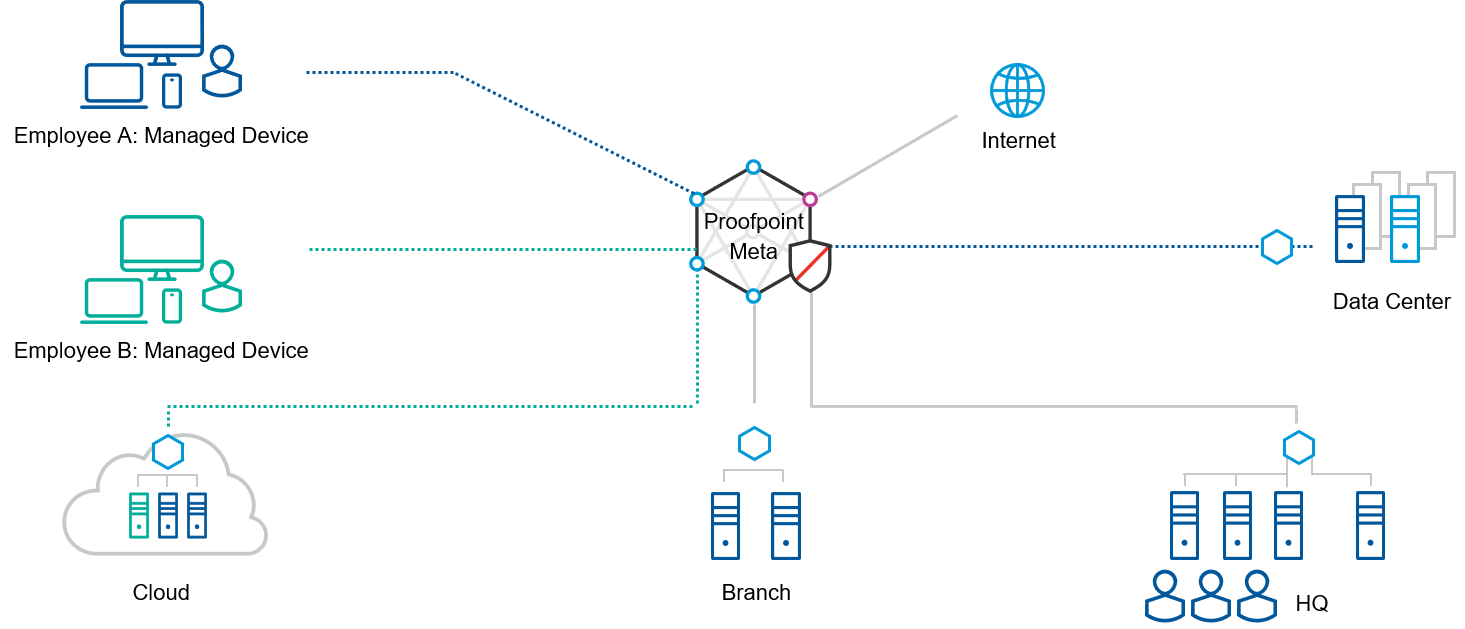 Employee A has always-on protection, including secure remote access to an application in the data center and internet security. Employee B has secure browser-based remote access to an application in the cloud.
Features
Experience cloud-delivered network security and access
Mix and match your solutions
Cloud-delivered security doesn't have to tie you down to one vendor. With Proofpoint ZTNA, choose DNS filtering, Secure Web Gateway, Cloud Access Security Broker, and Network Access Control solutions from any one of our growing list of partners. You're never locked in, and you can switch solutions any time.
Simplify processes with low-touch provisioning
With Proofpoint ZTNA, it's easier than ever to provision your cloud-delivered network security solutions. It simply adds them to your user policies. With our cloud identity and access management, the intelligence from the device to our cloud security gateway is moved. This means there's no need to install, update, configure and maintain multiple agents, certificates and PAC files.
Provide a better user experience with cloud scaling
Proofpoint ZTNA provides you with service-chaining over a cloud-native overlay network. This optimizes the delivery and performance of your cloud-based network security products. And it gives your employees a better user experience.
Demo
Experience the next generation in secure enterprise application access.
As applications move to the cloud and workers are increasingly mobile, enterprises need a better alternative for secure remote application access than the conventional VPN.
Watch the Demo
"With Proofpoint ZTNA, we are centrally managing a zero-trust network that covers all of our applications and data, and our employees, contractors and customers. We're growing quickly and the solution is robust and flexible enough to grow with us - it's easy to onboard new customers and assure the granular security that we need."

Amir Mehler, Cross-Tech TL
Read the Customer Story

"Compared to managing VPNs in each of our data centers, the Proofpoint ZTNA solution is much simpler and more convenient both for both our IT team and for our users."

Moshe Magal, IT team leader
Read the Customer Story
"Proofpoint ZTNA enables us to set up a smart system for connecting our customer success teams to our customers' data in a secure, easy to use, and extremely flexible way. Thanks to the powerful APIs, we could automate our workflows and provide a very simple interface for our global customer success team."

Ramon Snir, Senior Developer
Read the Customer Story