Cybersecurity Leadership Certification
Proofpoint Certified AI/ML Specialist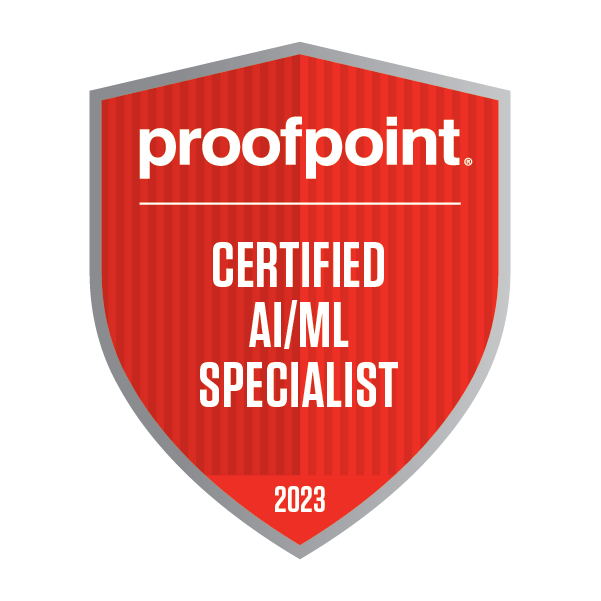 Fridays on August 11th, 18th & 25th | 10-11 am PT | 1-2 pm ET
Anyone with access to the internet can now take advantage of recent developments in Artificial Intelligence (AI) and Machine Learning (ML). Unfortunately, malicious actors can also use these developments to enhance their cyber attacks through threats like ransomware or Business Email Compromise. So how can we in the Information Security sector utilize AI and ML to be more efficient in threat detection and analysis?  
Join our certification program to learn how AI/ML is relevant in the world of information security, best practices for understanding AI/ML risks to cybersecurity, and how to adopt AI/ML to your security organizations to better protect your people and data.   
Becoming certified is easy. Just register and attend the three 1-hour courses listed below, pass the exam at the end of each course, and earn your certification! 
This track is intended for all levels of cybersecurity administration roles. These are NOT technical training sessions. For product or solution-specific education, please visit our web-based accreditation and instructor-led technical courses. All courses are eligible for CPE credits through ISC(2).
Course 1
Introduction to Artificial Intelligence (AI) and Machine Learning (ML)
The world is abuzz with terms like ML, AI, ChatGPT, NLP, neural networks and Deep Learning. Where did all this technology come from and what does this all mean for information security professionals? To understand the impact of AI and ML, a good understanding of the history is required. 
Join our first session as our instructors deep dive into: 
The history of AI and ML 
The fundamental technical principles that power this innovation that is changing our world of information security  
Clarifying the confusion on all the different terms in the market
Course 2
Applications of AI and ML to the World of Information Security
New technologies create opportunities for both defenders and attackers in the world of Information Security. But what are the real-world use cases in our world of information security? Can AI and ML be used by attackers to create ransomware? Is it possible for attackers to generate Business Email Compromise scams? Can we in Information Security utilize AI and ML to be more efficient in threat detection and analysis?
In the second session, our instructors will:
Explore the different use cases that AI and ML can augment how we protect people and defend data 
Describe the feasibility of attackers using AI and ML to attack organizations 
Make recommendations on what policies and controls need to be in place with the adoption of technologies such as Generative AI
Course 3
Evaluating AI and ML based Products
With the market abuzz about AI and ML, every technology company has jumped on the band wagon touting their AI and ML capabilities. But as security professionals, we need to sort through the noise, understand cybersecurity risks around AI/ML systems, and be armed with the right questions to ask technology vendors.
Join us for our last session of the certification series on how you can effectively evaluate AI/ML based products. In this session, our instructors will: 
Provide information to consider when deploying AI systems 
Provide the list of questions to ask technology vendors if they are using AI/ML 
Discuss ways to evaluate and run Proof of Concepts with products utilizing AI/ML