Cybersecurity Leadership Certification
Proofpoint Certified Ransomware Specialist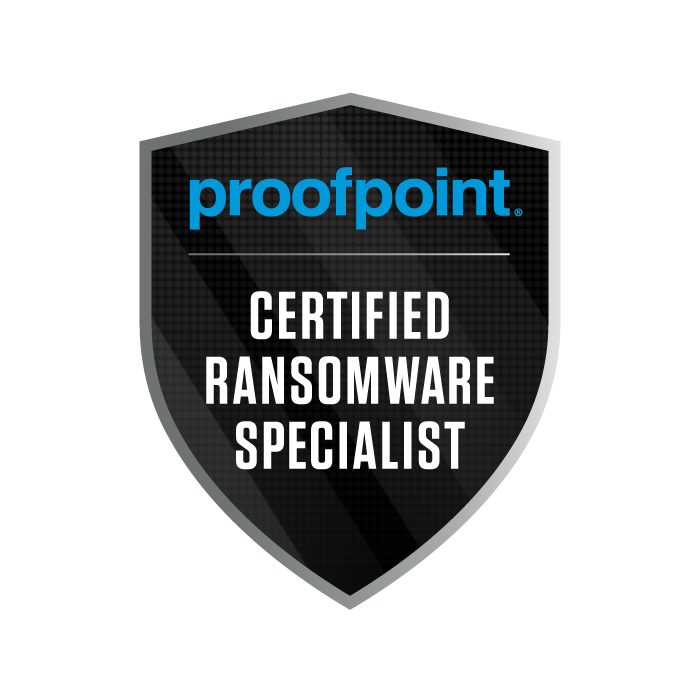 Course 1: Fridays on March 11th, 18th & 25th, 2022 | 10-11 am PT | 1-2 pm ET
Course 1: Fridays on June 10th, 17th, & 24th, 2022 | 10-11 am PT | 1-2 pm ET
Our Certified Ransomware Specialist program is designed to educate you on the latest threats and best practices against ransomware and how Proofpoint's people-centric approach in both threat and information protection will better protect your company.
Becoming certified is easy. Attend three Proofpoint-led courses, pass the exams at the end of each course, and earn your certification!
*This track is intended for all levels of cybersecurity administration roles. These are NOT technical training sessions. For product or solution-specific education, please visit our web-based accreditation and instructor-led technical courses. All courses are eligible for CPE credits through ISC(2).
Course 1
Ransomware History and Evolution
The average organization last year spent almost $6 million dollars on ransomware. What used to be an annoyance locking individual machines and ransoms in the hundreds of dollars has shifted to "big game" hunting with much larger potential payouts.
In the first session, we will discuss: 
The evolution of ransomware
How ransomware attacks have changed 
Stories of real ransomware attacks 
Course 2
Today's Ransomware Threat Landscape and the Need to Shift Left
Ransomware is an inherently people-centric problem, with more than 75% of today's attacks originating from email or social engineering. Understanding how attackers are targeting your organization and who in your organization is at-risk can give you the upper hand in the fight against this increasingly dangerous threat.
In the second session, we will discuss: 
Why ransomware is a people-centric problem
How threat actors are executing ransomware attacks today 
How to get visibility into potential ransomware attacks
Course 3
Looking Forward: Prevent, Defend, and Respond to Ransomware
Protecting against future ransomware attacks requires a new approach. Taking a layered, integrated approach to threat and information protection, while also following other IT and security best practices can drastically reduce the risk and impact of a ransomware attack.
In the third and final session, Proofpoint experts walk you through detailed steps of: 
How to prevent initial infections 
How to stop discovery, persistence, and data exfiltration 
Best practices to mitigate risk and impact