Cybersecurity Leadership Certification
Proofpoint Certified Security Awareness Specialist
Proofpoint Certified Security Awareness Specialist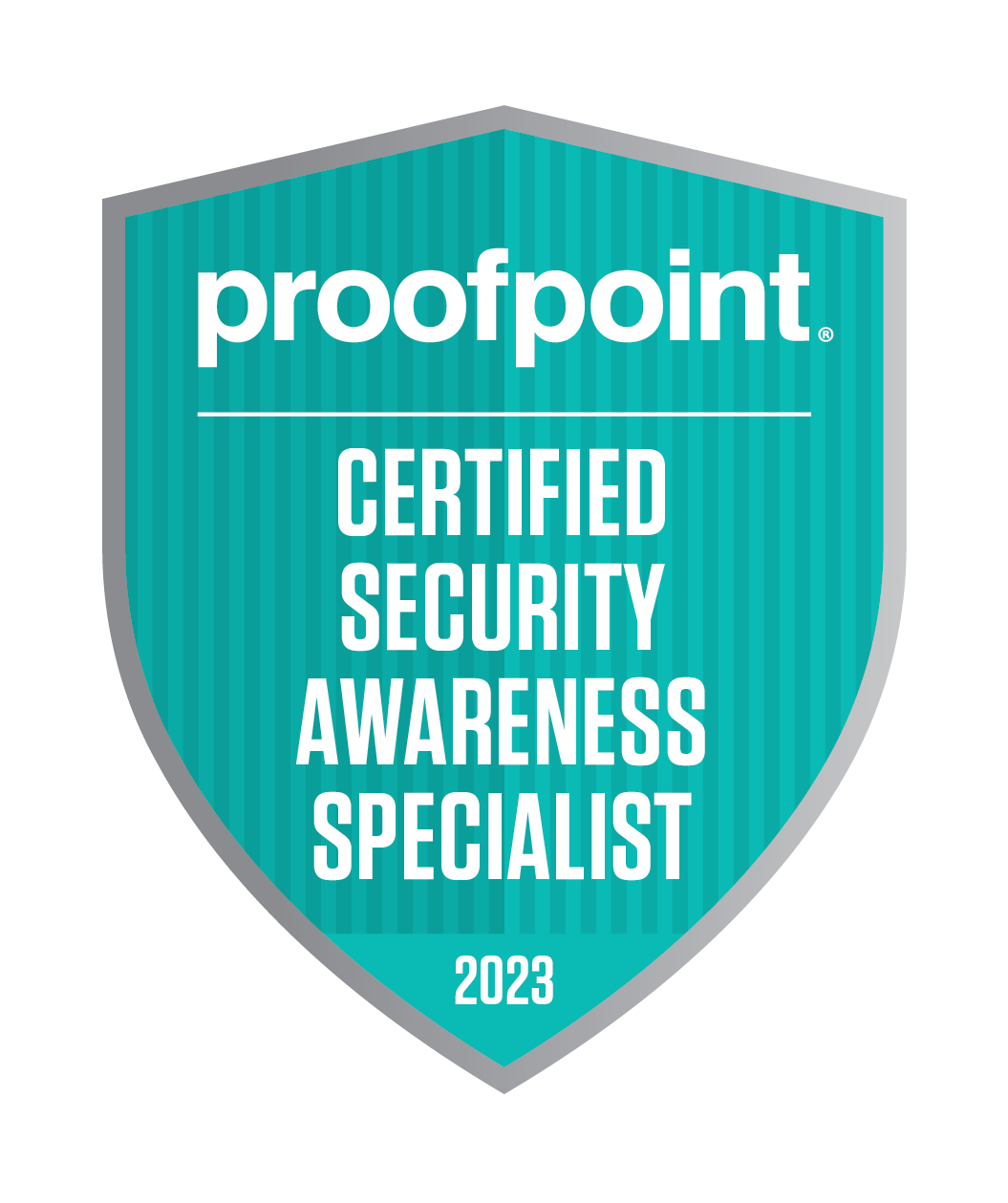 Fridays on June 9th, 16th & 23rd | 10-11 am PT | 1-2 pm ET
With 90% of security incidents resulting from human error1, empowering your users to be a strong line of defense is critical. 
Join our Security Awareness Certification program to learn why security education is essential, best practices for creating effective security awareness education and how to build a culture of security awareness at your organization. 
1(The World Economic Forum). "The Global Risks Report 2022 17th Edition." 2022. 
*This track is intended for all levels of cybersecurity administration roles. These are NOT technical training sessions. For product or solution-specific education, please visit our web-based accreditation and instructor-led technical courses. All courses are eligible for CPE credits through ISC(2).
Course 1
Understanding Past and Present to Envision the Future
Cyber attackers use various social engineering techniques to target people, with 84% of organizations experiencing at least one successful phishing attack in 20222. These attacks could lead to data breaches, compromised accounts, or monetary loss. So how can you better protect your end users? 
Join our first session to learn from our experts about:  
Why security education is essential 
The challenges and evolution of security awareness 
How to assess your program's current state 
The mission and vision of future security awareness
2(Proofpoint, Inc.). "2023 The State of the Phish." February 2023. 
Course 2
Creating an Impactful Security Awareness Program
Most organizations have a security awareness program, but many struggle to make it effective. Additionally, 80% of security professionals have only two hours or less per year to train end-users3, making it challenging to grab their attention and improve learning effectiveness. So how can you better this process? 
In our second session, our guest speaker and security expert will teach you about:  
Key learning principles for security awareness education 
How to keep users engaged and interested  
The importance of effective communication 
How to use threat intelligence to make it relevant to users
3(Proofpoint, Inc.). "2023 The State of the Phish." February 2023. 
Course 3
Upleveling Your Program— Build a Sustainable Security Culture
Despite the efforts of security professionals to increase user awareness, there are often discrepancies between their methods and the opinions of general employees. For example, while almost 70% of security pros found that adopting a consequence approach increased user awareness, nearly 50% of working adults complained about this approach4. It's clear that organizations need to move beyond training and develop a strong security culture to drive behavior change. So how can this be accomplished effectively?
In our last session, our experts will provide valuable insights on how to achieve this effectively, including:  
Understanding what security culture is and why it matters 
Building a Champion's network to drive cultural change 
Measuring and tracking behavior and culture change 
Gaining executive buy-in for security initiatives 
4(Proofpoint, Inc.). "2023 The State of the Phish." February 2023.