Cybersecurity Leadership Certification
Enrollment is now open. Please register before June 6th, 5 pm PT.
Proofpoint Certified Security Awareness Specialist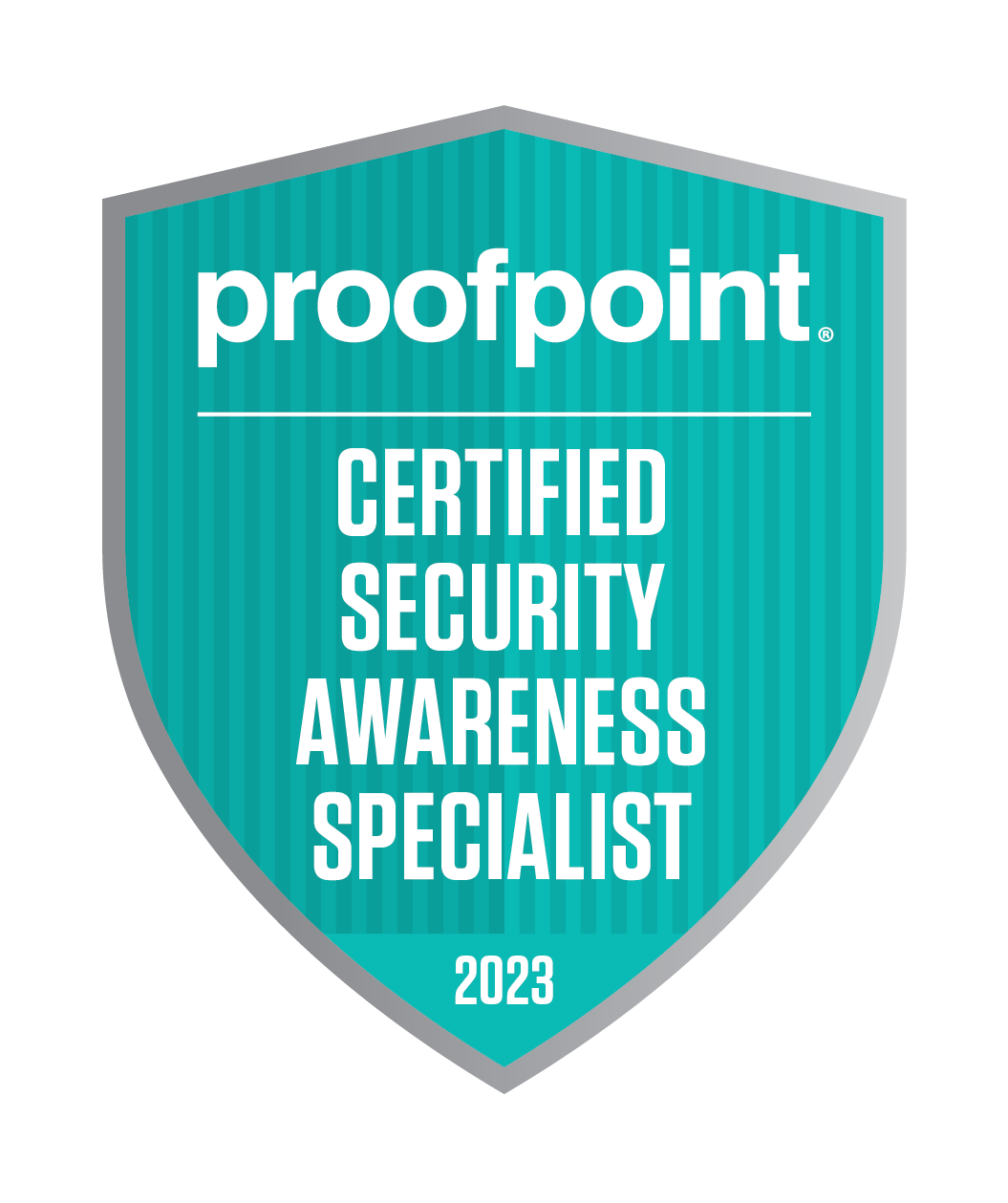 Fridays on June 9th, 16th & 23rd | 10-11 am PT | 1-2 pm ET
With 90% of security incidents resulting from human error*, empowering your users to be a strong line of defense is critical.  
Join our Security Awareness Certification program to learn why security education is essential, best practices for creating effective security awareness education and how to build a culture of security awareness at your organization.      
Becoming certified is easy. Just register and attend the three 1-hour courses listed below, pass the exam at the end of each course, and earn your certification! 
*(The World Economic Forum). "The Global Risks Report 2022 17th Edition." 2022 
This track is intended for all levels of cybersecurity administration roles. These are NOT technical training sessions. For product or solution-specific education, please visit our web-based accreditation and instructor-led technical courses. All courses are eligible for CPE credits through ISC(2).
Course 1
Understanding Past and Present to Envision the Future
Cyber attackers use various social engineering techniques to target people, with 84% of organizations experiencing at least one successful phishing attack in 20222. These attacks could lead to data breaches, compromised accounts, or monetary loss. So how can you better protect your end users?   
Join our first session to learn from our experts about: 
Why security education is essential 
The challenges and evolution of security awareness 
How to assess your program's current state 
The mission and vision of future security awareness
2(Proofpoint, Inc.). "2023 The State of the Phish." February 2023.
Course 2
Creating an Impactful Security Awareness Program
Most organizations have a security awareness program, but many struggle to make it effective. Additionally, 80% of security professionals have only two hours or less per year to train end-users3, making it challenging to grab their attention and improve learning effectiveness. So how can you better this process?  
In our second session, our guest speaker and security expert will teach you about: 
Key learning principles for security awareness education
How to keep users engaged and interested 
The importance of effective communication 
How to use threat intelligence to make it relevant to users
3(Proofpoint, Inc.). "2023 The State of the Phish." February 2023.
Course 3
Upleveling Your Program — Build a Sustainable Security Culture
Despite the efforts of security professionals to increase user awareness, there are often discrepancies between their methods and the opinions of general employees. For example, while almost 70% of security pros found that adopting a consequence approach increased user awareness, nearly 50% of working adults complained about this approach4. It's clear that organizations need to move beyond training and develop a strong security culture to drive behavior change. So how can this be accomplished effectively? 
In our last session, our experts will provide valuable insights on how to achieve this effectively, including: 
Understanding what security culture is and why it matters
Building a Champion's network to drive cultural change 
Measuring and tracking behavior and culture change 
Gaining executive buy-in for security initiatives 
4(Proofpoint, Inc.). "2023 The State of the Phish." February 2023.
FAQs
There are some questions:
What email should I use to register?

Keep in mind that in order to be able to take the exams, you must use a business email. Please do not register with a personal email such as those with the domain "gmail" or "yahoo." 

Please consistently use the same email you registered with throughout the program to ensure the accuracy of tracking your attendance towards getting certified.

I can't get into the live session, it says it's full.

Please note that our live sessions have a seat limitation and will be on a first-come first-served basis. If you are unable to join the live session, you can always watch the recording on-demand to count towards your certification.

What if I am unable to attend one of the live sessions?

If you are unable to attend a live session, you may watch the recording and take the exam by July 21st 2023, 5 PM PT. All live sessions will be recorded, and you may access the videos from an email that will be sent soon!

What is considered a passing grade for each course?

To pass a course, you would have to attend the session either live or watch on-demand and take the exam at the end of the course. You need to score 100% on each exam to pass the course.

How many times can I retake the exams?

You have unlimited attempts to take the exams to get 100% scores to pass the courses.

How long will the recordings and exams be available for me to access?

You will have until July 21st 2023, 5 PM PT to access the course recordings and exams to complete your certification.

How long is each course?

Each course is about 1 hour long. 

How much does the certification cost?

The courses and certification are free.

Do I need to watch all three sessions?

Yes. You are required to watch all three sessions (either on-demand or live) to be eligible for your certification in addition to passing all of your exams. 

When will I receive my exam link?

After you have watched the session (live or on-demand), you will receive an email within 1-3 business days after the live session, with the exam link.

I can't take my exam, it won't allow me access.

If you are running into problems accessing the exam, here are some ways you can try to resolve the issue:

Please try to get the exam link whitelisted
Turn off your company VPN, it might be blocking the website
Use a personal computer to take the exam

I've completed the exams. How do I redeem my badge & certificate?

We will review your submission/attendance and issue your certificate by the end of July. You will receive an email from our trusted vendor Credly (admin@credly.com) with instructions on how to access your digital badge and certificate.
Jill Areson-Perkins
Cybersecurity Manager, Human Risk & Learning, Liberty Mutual Insurance
Jill Areson-Perkins is the Cybersecurity Manager/Human Risk & Learning at Liberty Mutual Insurance. For more than 7 years at Liberty, she has strategically driven efforts to reduce human risk and create an enterprise-wide culture of data protection. Jill leads broad-based awareness and training, along with security role-based training. Her focus is on changing behaviors to promote adoption of cybersecurity best practices in employees' daily actions. She uses her 25+ years in marketing (including 10+ years at Timberland) to develop engaging cybersecurity programs and campaigns.  Jill has an undergrad in Communications from BU, an MBA from UNH and has earned the SANS Security Awareness Professional certification.
Andrew Rose
Resident EMEA CISO, Proofpoint
Andrew is the Resident CISO at Proofpoint. Andrew joined from Mastercard, where he was CSO of their real time payments division, responsible for moving trillions of $ each year. Andrew also held the CISO role at the UK's Air Traffic Control service, and two of the world's largest law firms. He also spent several years as a Principal Analyst at Forrester Research. Andrew was named as "European CISO of the year" in 2018, has been recognized as one of the UK's top 30 security professionals for the last three years, led the "UK's best security awareness program" in 2015, and has contributed to media outlets such as the Wall Street Journal, the Financial Times, the Washington Post and Wired magazine.
 
Brian Reed
Senior Director of Strategy, Proofpoint
Brian Reed is the Senior Director of Strategy at Proofpoint. He comes to Proofpoint from Gartner where he focused on a wide variety of topics – cloud security, data security, incident response, insider threats and security awareness. Since 2015, he published over 50 thought-leading research notes at Gartner. Previous to Gartner, he spent over 15 years in a variety of business development, product management, sales and system engineering roles. He is well known in the information security industry and has spoken at numerous Gartner events, as well as other industry events globally. Brian also serves as an advisory board member and holds a BA degree from The University of Georgia and an MBA from Kennesaw State University.
Debbie Rich
Sr. Product Marketing Manager, Proofpoint Security Awareness
Debbie joined Proofpoint with a decade of experience in helping companies tell the story of their technology. In the security awareness space, she is an advocate of closing the threat gap by understanding people's concerns and motivation. Previously, she worked in diverse software industries such as asset management and special effects. Outside of work, Debbie tells more stories with her oil paintings.
Gretel Egan
Sr. Services Field Enablement Manager, Proofpoint
Previously a senior security awareness training strategist for Proofpoint, Gretel frequently presents to technical and non-technical audiences, specializing in the social engineering threat landscape and risk mitigation through end-user awareness and education. She is a Certified Security Awareness Practitioner (CSAP) and was a six-time author of the Proofpoint State of the Phish report, an annual study of the phishing landscape and its impact on global organizations. Gretel has more than 25 years of experience in technical, business, and consumer communications and product marketing, including extensive experience researching and developing cybersecurity education content and security awareness best practices for Fortune 1000 companies.
Sara Pan
Manager, Product Marketing, Proofpoint
Sara leads the Proofpoint security awareness product marketing team. She has been a product strategist in the cybersecurity industry for over 10 years. She has presented at industry events and webinars- topics spanning across security awareness education, email security, data security and more. Sara's on top of the new wave of email threats, such as business email compromise, account takeover, and supply chain fraud. She led the 2023 State of the Phish report. She is also an advocate for diversity and inclusion in security.
Bob Hausmann
Learning and Assessment Architect, Proofpoint
Dr. Bob Hausmann is the Learning and Assessment Architect at Proofpoint, and he is currently a member of the Content Enablement Team. He received his PhD in Cognitive Psychology in 2005 from the University of Pittsburgh, and received additional training at the Pittsburgh Science of Learning Center (PSLC) as a post-doctoral fellow with Dr. Kurt VanLehn and Dr. Timothy J. Nokes-Malach. Dr. Bob publishes a blog entitled Dr. Bob's Cog Blog, and is the author of the book Cognitive Science for Educators: Practical suggestions for an evidence-based classroom. The unifying theme that runs throughout his career is the application of technology to enhance educational opportunities for each student.
Paul Chavez
Sr. Product Marketing Manager, Proofpoint
Paul joined Proofpoint as a highly experienced cybersecurity professional with over 20 years of expertise in roles such as Product Manager, Systems Engineer, and Product Marketer, working at many other well-known cybersecurity companies throughout Silicon Valley. Having witnessed the ever-evolving nature of cyber threats, Paul firmly believes that there is no silver bullet in the realm of cybersecurity and recognizes that a holistic approach of technology and education is essential. He serves to tell the story that emphasizes the importance of security awareness as a key component in protecting organizations against latest threats.
Jim Canfield
Sr. Manager for Managed Services, Proofpoint
Ten years ago, Jim Canfield was an early hire at Wombat Security to provide managed services to many customers. Wombat was acquired by Proofpoint 2 years later. Since then, the team has gone from a handful of former Support people to a team of 38 Managed security awareness training admins serving 650+ customers world-wide.