Recent research underscores just how challenging the current threat and risk landscape is for businesses and their security and IT teams. Ransomware attacks are up 153% year over year. Business email compromise (BEC) attacks doubled during the same period. Meanwhile, the global deficit of skilled security personnel sits at about 4 million.  
New threats are emerging and existing ones are growing more sophisticated all the time. Security measures need to keep pace with these dynamics to be effective. Businesses must be proactive and aim to stop threats before they start, but still be able to respond with speed to incidents already in progress.   
To do that, you must understand how attackers are targeting your business. And you must be able to clearly communicate those risks to executive leadership and peer stakeholders.  
At Proofpoint, our goal is to protect our customers from advanced threats by streamlining our solutions and processes while also providing easy-to-understand threat visibility. That's why we introduced improvements to the usability and reporting of the Proofpoint Aegis threat protection platform. Read on to learn more. 
3 Aegis usability enhancements 
The market spoke, and we listened. Feedback from our customers was key in developing all of the following user interface (UI) enhancements, which we focused around three goals: simplifying access, prioritizing usability and clarifying the threat landscape. 
1: Simplifying access 
Complexity hinders productivity and innovation. With that in mind, Proofpoint launched a new single sign-on (SSO) portal to provide a centralized, frictionless user login experience to Aegis. Customers can now use a single URL and single set of credentials to log in to the platform and switch seamlessly between our products. That's a big win for businesses that use multiple Proofpoint solutions.  
Your business can expect to see improved operational efficiency. By simplifying access to the Aegis platform, we're reducing the time admins spend getting to work, navigating their environments and searching for tools.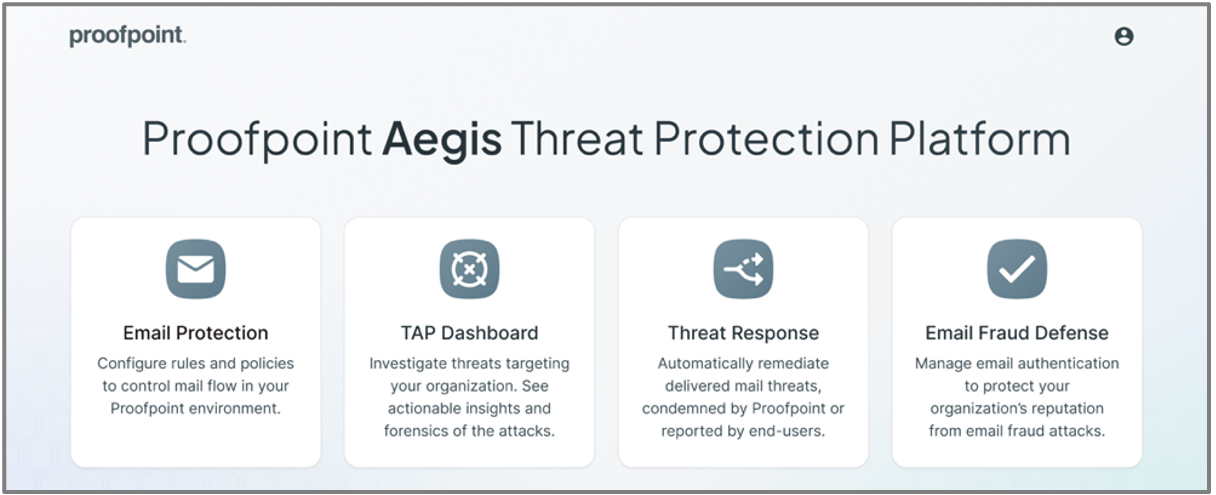 The SSO portal is a significant step forward in improving the usability and user experience of the Proofpoint Aegis platform. 
2: Prioritizing usability  
Proofpoint's user-centric design approach means our solutions are becoming more intuitive and easier to use all the time.  
The new usability updates for Aegis reduce cognitive load by minimizing the mental effort that's required to focus on processes. This makes creating natural workflows less complex, which results in fewer errors and less time spent on manual work.  
Our intuitively designed tools reduce frustration and effort for users by enabling faster onboarding. They also provide better problem-solving and self-troubleshooting capabilities. 
Our goal of improved usability led us to incorporate new Email Protection modules into the updated cloud administration portal. The modules offer streamlined workflows and quicker response times. This means admins can perform their daily tasks and manage email threats more easily. And they don't have to navigate through complicated menus.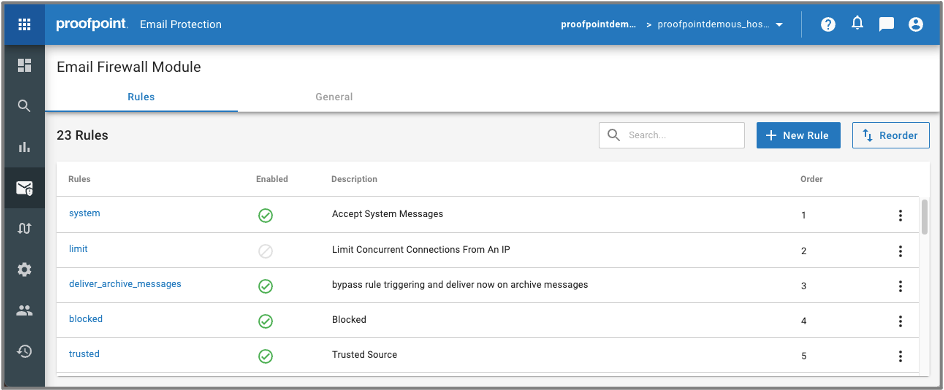 The Email Protection modules are available now in PPS 8.20; they include the Email Firewall and Spam Configuration UIs. 
3: Clarifying the threat landscape 
Proofpoint has long been at the forefront of bringing clarity to the threat landscape. And we know that when security and IT teams have more visibility, they can make more informed decisions. However, we also know that for actionable decisions to be truly effective, threat landscape visibility needs to be quick and easy for other stakeholders to grasp as well. 
We're striving to minimize information overload through summarized and contextually driven documentation. This helps you to always know and understand the cyberthreats your business is facing. Clear, easy to access data allows administrators to move fast to keep up with evolving threats. It also enhances the ability to communicate risk to nontechnical stakeholders who may require higher-level awareness of your company's security posture.  
Two summary reports coming soon from Proofpoint will provide an at-a-glance understanding of your company's threat and risk landscape: 
The Executive Summary will offer your executive team actionable intelligence at a 10,000-foot level  
The Condemnation Summary will use plain language to explain why certain risks were condemned 
Your security and IT team leaders can use the insights from these reports to direct their teams to take swift and targeted actions that can improve your threat defenses.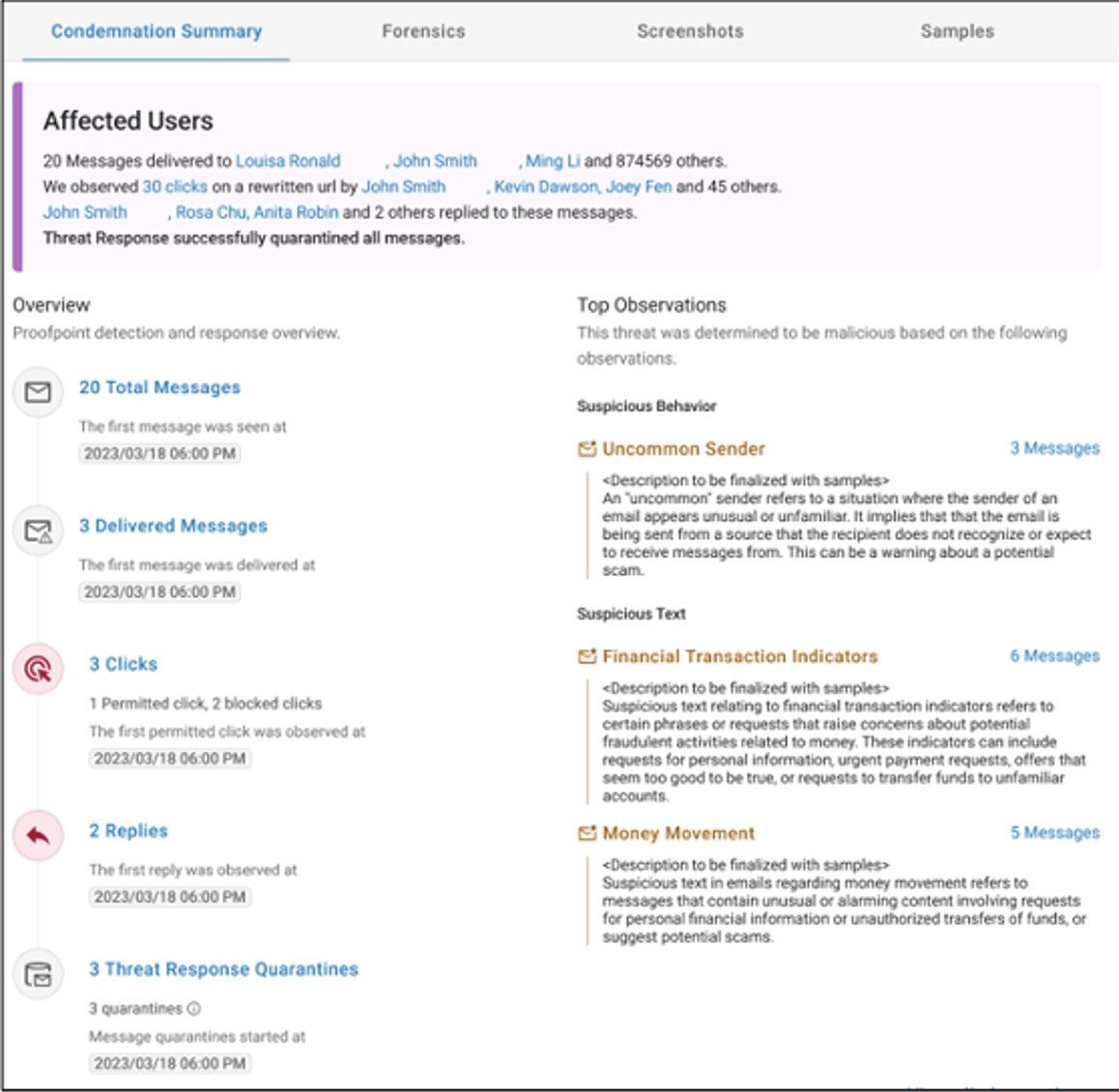 The Executive Summary and the Condemnation Summary will be included in the TAP dashboard and be available for general use soon.  
Proofpoint helps make the complex understandable 
In today's dynamic threat landscape, the effectiveness of security measures hinges on the ability to adapt to threats and risks with speed. Our ongoing work at Proofpoint to simplify access, prioritize usability and clarify evolving cyberthreats is meant to help our customers do just that. 
If you are a Proofpoint customer who wants to enable these improvements within your current setup, please reach out to your account manager. To learn more about how you can quickly evolve with attackers to break their attack chains read this blog post. 
Subscribe to the Proofpoint Blog