Monitoring recent Chinese cyber crime activity. And Bumblebee malware buzzes back into the threat landscape.
This week on The Threat Hub: Since early 2023, our researchers have seen an increase in the amount of malicious email targeting Chinese language speakers. These messages have attempted to deliver a range of malware, including a new variety dubbed ValleyRat. Campaigns have also featured Sainbox, a variant of Gh0stRAT. In total, more than 30 campaigns have distributed these malware variants in 2023, nearly all using Chinese language lures. Targeting has largely been of global businesses that have operations in China. Email lures have used perennial themes such as payments, invoices and new product information.
The increase in Chinese malware suggests increased activity by Chinese-speaking cyber criminals. And while there have been some similarities in delivery methods and tactics, we've seen enough variety to suggest multiple threat actors at work rather than a single operator. The blog post contains detailed analysis of individual campaigns and malware strains, including sample lures.
And on this week's Five-Minute Forecast, CISA offers security reviews to critical infrastructure providers, Iranian attackers target defense contractors, and senior threat intelligence analyst Selena Larson shares an update on Knight ransomware.
Threat of the Week: Bumblebee
Late August saw the return of Bumblebee malware in volume in our campaign data for the first time since April. The malware's return coincides with law enforcement disruption to Qbot, with Bumblebee a potential candidate to stand in for Qbot among initial access brokers.
Equip your team with threat intelligence
Go Deeper with our Premium Threat Info Service
Connect with threat analysts, understand threats with intelligence specific to your situation, and gain 24/7 visibility into the latest threat discoveries.
Learn More
2023 Human Factor
Cyber attackers target people. They exploit people. Ultimately, they are people. That's why people—not technology—are the most critical variable in today's cyber threats. This year, the 2023 Human Factor report takes an even closer look at new developments in the threat landscape, focusing on the combination of technology and psychology that makes the modern attack chain so dangerous.
Read the threat report
About The Threat Research Team
Our threat researchers are responsible for tracking shifts in the cybersecurity landscape, identifying new attacks as they emerge, and monitoring how threat actor tactics, techniques and procedures change over time. The threats they detect and the signatures they write feed into our platforms and are keystones in a system that analyzes more than 2.6 billion emails, 49 billion URLs and 1.9 billion attachments every single day.

By studying what cyber criminals are doing now, our threat researchers are better able to anticipate what they'll do next. Every day, their work keeps our customers protected—not just from today's attacks, but tomorrow's threats as they evolve.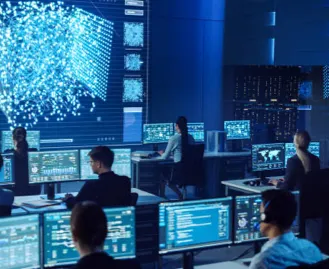 Subscribe to the Proofpoint Blog