Overview
Modern compliance and governance requirements include regulation for social media. From FINRA to FCC, it's imperative to ensure compliance as you scale your social media efforts. Bridging the gap between social media compliance and marketing practice can be a big challenge. Fortunately, Proofpoint Social Media Protection software can help.
Social Media Compliance Made Simple
Social Patrol simplifies social media compliance with pre-built content categories, policies, and reports. Within minutes, you can apply policy for your industry and regulations—including, FINRA, FDA, HIPAA, FCA, FTC, SEC and others. The software then automatically scans content across all of your social media properties and triggers alerts and/or deletes content whenever a violation is detected.
Automate Your Social Media Compliance Auditing
Automated Scanning and Enforcement
The amount of content generated across all your social media accounts is likely too much for you to monitor and sift through manually. Social Patrol automates content scanning, incident identification, alerting, remediation and reporting for your audits, saving you significant time and money. With automated scanning and enforcement, you're free to focus on real problems, not noise.

Social Patrol: Table of Incidents Over Time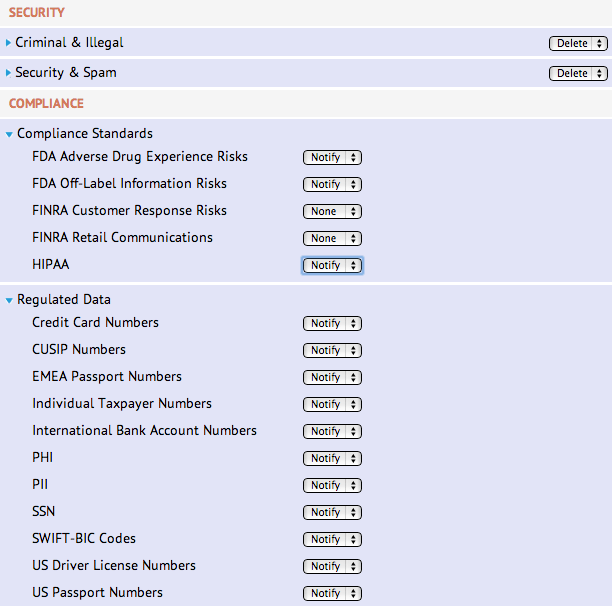 Social Patrol's built in healthcare compliance policies
Simple and Smart Social Media Archiving
Social Patrol seamlessly integrates with leading archiving solutions to intelligently collect and classify social media content for future search and eDiscovery — simply select the social pages and accounts you'd like to archive. Our software also archives contextual information, including remediation workflow and content classification, which saves you time and money during an audit.
Social Patrol
The Social Patrol software provides real-time, cloud-delivered protection from account hacks, spam, compliance risks, and malicious content.
5 Steps To Social Media Compliance
Learn about how regulations may affect financial, retail, healthcare, pharmaceutical, and other industries using social media, and what you can do to address the growing compliance requirements for your organization.