Cybersecurity Leadership Certification
Proofpoint Certified DLP Specialist
Proofpoint Certified DLP Specialist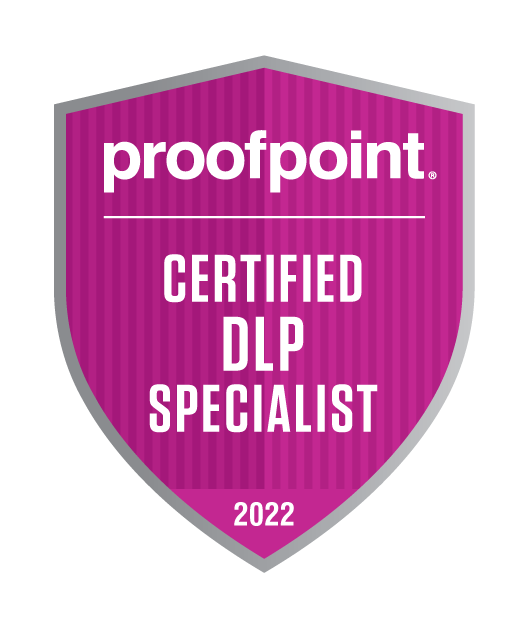 Fridays on September 16th, 23rd & 30th | 10-11 am PT | 1-2 pm ET
Enrollment to become a Proofpoint Certified DLP Specialist has now closed.
Data doesn't move itself. People—whether they are negligent, compromised or malicious—move data in secure and risky ways. The shift to remote and hybrid has complicated the picture by widening the vulnerability and attack surface. So how do you secure your sensitive data?  
Our Certified DLP Specialist program is designed to train you on the latest trends and insights of data loss prevention and how Proofpoint's people-centric approach can help you better protect your company. 
Becoming certified is easy. Just register and attend the three 1 hour courses listed below, pass the exam at the end of each course, and earn your certification!
*This track is intended for all levels of cybersecurity administration roles. These are NOT technical training sessions. For product or solution-specific education, please visit our web-based accreditation and instructor-led technical courses. All courses are eligible for CPE credits through ISC(2).
Course 1
Data Loss Prevention 101
Alongside widespread adoption of work-from-anywhere and cloud computing, data breaches are increasing in frequency. This makes data security a major concern. With data expected to grow at 23%* a year, automation is key if security teams are to keep up.  
In this session, our instructors will take you back to the basics of data loss prevention (DLP). Join us for the first course as we brush up on:  
What is DLP? Why DLP?
Tools for monitoring riskiest data loss channels
Techniques used in detecting different types of data
Latest and greatest of data controls
*Accenture. "The State of Cybersecurity Resilience 2021." November 2021. 
Course 2
Shortfalls of Legacy DLP and How to Modernize Your DLP Program
In a work-from-anywhere world, data loss prevention requires a people-centric approach.  Unfortunately, network and data-centric solutions are not up to the task.  Modern DLP solutions must provide visibility to negligent, compromised and malicious user scenarios and address all key channels of data loss.  They must scale with your company's information protection needs, protect data without interruption, and be built with privacy-by-design in mind. 
Join us for the second course to learn:  
Challenges with legacy on-premises DLP 
What to look for and how to build a people-centric DLP solution 
Why you need a cloud-native multi-channel DLP solution
Course 3
Common DLP Use Cases in a Work from Anywhere World
With the pandemic, the pace of digital transformation accelerated. Work habits changed. Messaging on Teams or Slack replaced water cooler conversations. In addition to email, documents are being shared via the cloud applications such as SharePoint and Box. As a result, data has left the corporate perimeter and now resides everywhere.  So data loss prevention (DLP) practices must also change and follow the data and the users more effectively.  
Join us for the third and last course to learn about:  
Top DLP use cases for the riskiest data loss channels 
Architecture of choice for each use case 
How to fine tune DLP policy rules 
How to measure success