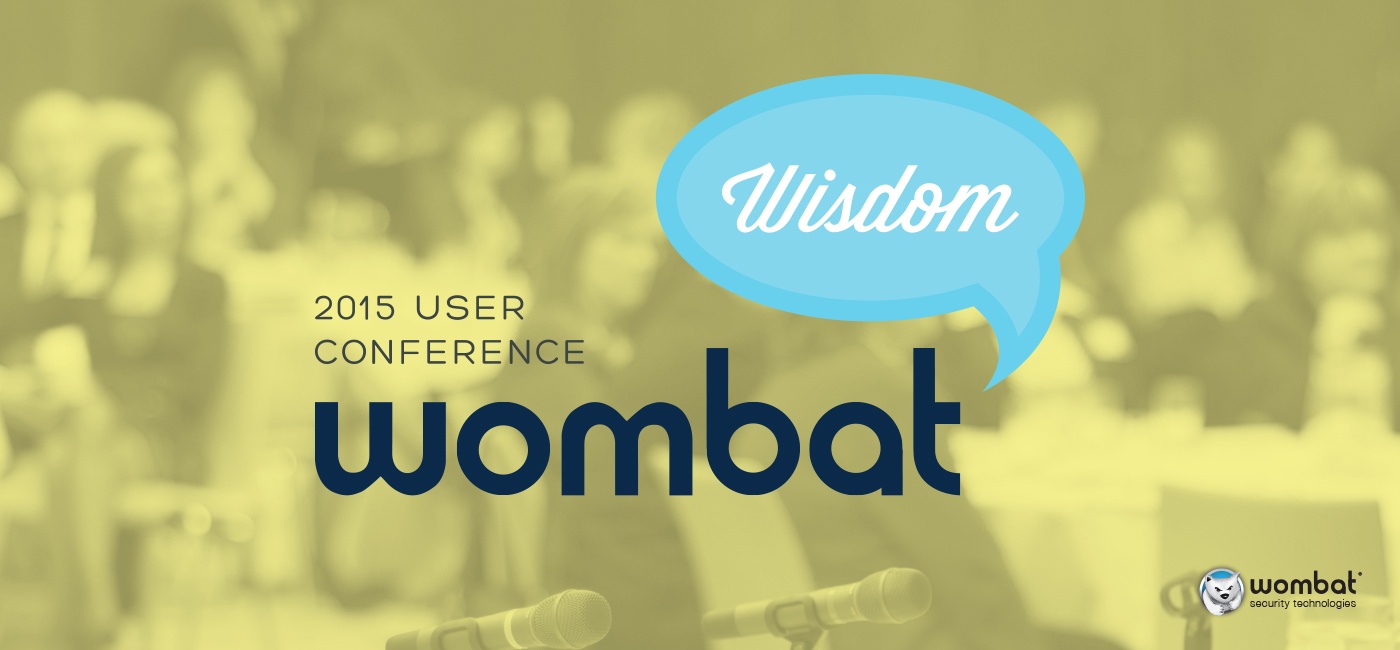 Our inaugural user conference, known to our customers as "Wombat Wisdom," was held in our hometown of Pittsburgh this week. So named because a group of wombats is called a "wisdom," this event allowed our customers to meet with each other and key members of the Wombat Security team, and share their successes, advice, challenges, and desired product enhancements.
The three-day security awareness event kicked off with an opening cocktail reception, where attendees to get to know one another in a casual and informal setting. The following morning, our customers were welcomed by Wombat President and CEO Joe Ferrara, who offered insights into the current Wombat strategy and vision, as well as plans for the future.
Attendees also heard from keynote speaker Dr. Larry Ponemon of the Ponemon Institute, who shared the background and results of the recent Cost of Phishing & Value of Employee Training study that showed organizations could realize up to a 50x ROI using the Wombat Continuous Training Methodology. A Q&A session followed the presentation, with participants asking questions about the study's approach and its application within their own industries.
In addition, attendees had the opportunity to sit in on several roundtable and panel sessions, and these highly interactive discussions were almost exclusively driven by our customers. Participants were able to speak freely with their peers, and a number of customers shared their best practices and some of the unique ways they had used the Wombat products to drive success within their organizations.
The remainder of the two days was filled with short informational sessions led by Wombat staff. Product managers shared information about roadmaps, new reporting features, and planned enhancements to our interactive training modules as well as the PhishAlarm email reporting tool.
Lest you think we're merely tooting our own horn, we wanted to share some of our guests' comments (which were gathered well after an evening dinner and beer tasting at Hofbrӓuhaus Pittsburgh):
"Great event, leaving with lots of ideas and notes!"
"I appreciate the opportunity to network with the Wombat community. Thanks for the look into the 'future' of your products and the opportunity to provide input."
"It was great to have the opportunity to discuss what other are doing and get face-to-face access to the Wombat experts."
"'Wombat Wisdom' was aptly named. There was a lot of wisdom in the room and all of it freely shared. Well done!"
We look forward to welcoming our customers again at Wombat Wisdom 2016!
 
At Wombat, we truly value our customers, their experiences, and their feedback. If you'd like to participate in these types of events, please consider becoming a part of our User Community.
Subscribe to the Proofpoint Blog