Today, we kicked off Proofpoint's annual conference, Protect 2022. Over 4,000 attendees joined us today, including Proofpoint customers and a very special, or should I say, "magical" guest speaker. If you're a returning attendee, you will be glad to know that new snazzy blazers (with cufflinks and bowties) did hit the stage again this year.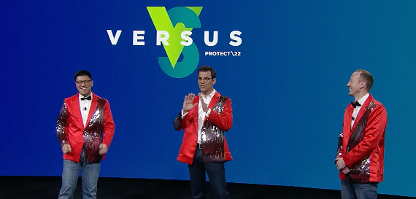 This year's theme is "Versus" – it's you, defending against threat actors 
Attackers have evolved their approach to incorporate malware, phishing, account takeover, impersonation, and social engineering tactics to target people and data. Now more than ever, defenders need to adopt a platform approach to counter these risks. Attendees will leave Protect with practical insights, understand security from both sides of the cybersecurity and compliance equation, and improve their strategic awareness of the threat landscape we all face.
It's hard to recap all the incredible stuff we covered today, but here are four highlights from day one. If you missed out, there's still time to participate. Register here to access all of today's on-demand sessions and receive the information you need to join us tomorrow.
1.) Protect People and Defend Data 
Newly appointed Proofpoint CEO Ashan Willy kicked off Protect with a compelling keynote diving into our mission: protect people and defend data. During his presentation, Ashan spoke about Proofpoint's key innovations and investments throughout the last year. You can read more about these people-centric innovations here.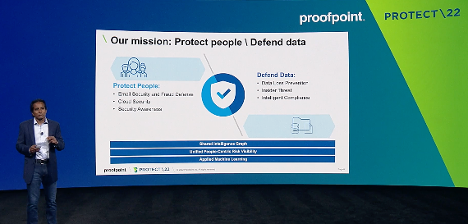 2.) Customers Coming Together 
 An outstanding lineup of customer speakers join us every year at Protect. This event simply wouldn not be as powerful without their participation, perspectives and the stories. I'm so grateful to our amazing customers for their support not only at Protect, but also throughout the entire year.
During one of the customer panels, Ashan sat with Deneen DeFiore, VP and CISO, United Airlines and Kris Burkhardt, CISO, Accenture, to discuss today's threat landscape trends. They started the discussion by focusing on the disruption in the cybersecurity space over the last 18 months and what's top of mind in the evolving world we face today—from internal challenges like acquisitions to onboarding new employees and supply chain risk. No matter the challenge or complex topic, Deneen and Kris agree you need to humanize and partner with your board members. It's extremely important to communicate your needs to the board and work with them to understand cybersecurity risk and the investments needed in this changing landscape.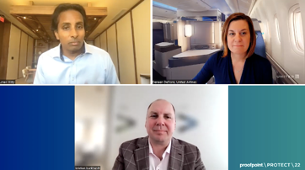 It's been undoubtedly a huge year for Pfizer, so we were excited to have Pfizer's Guy Delp VP, Global Information Security, join a panel discussion with Robert McIntyre CISO, Tetra Pak on reducing risk in information protection and cloud threats. A key theme during this discussion was the journey to protection starts with detection. While the goal is always to protect, it's a bit of a pyramid dynamic. You have to start with visibility. Then, you can build detections. Only once you've built detections can you begin to protect. And that's where he feels Proofpoint has helped in their journey. 

3.) Cybersecurity Policy in Washington, DC 
Proofpoint Global Resident CISO Lucia Milică sat down with U.S. Congressman John Katko and Patrick Gaul, Executive Director, National Technology Security Coalition. These guests are at the frontlines of shaping cybersecurity regulation and legislation in Washington, DC, which impacts us all. It was a lively discussion about CISA and the private sector and the collaborative effort that needs to be put into the cybersecurity space.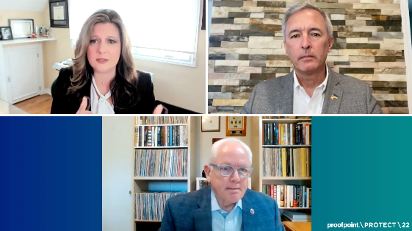 4.) Know Your Opponent
In the spirit of our theme "versus," it only made sense to invite Earvin "Magic" Johnson to speak about knowing who you're up against. Magic was able to reiterate something we want to push throughout this event: the importance of knowing your opponent. If the last two years have taught us anything, it's that we need to adjust and adapt to change. We need to continuously get better. And, as Magic said, "the best defense always wins."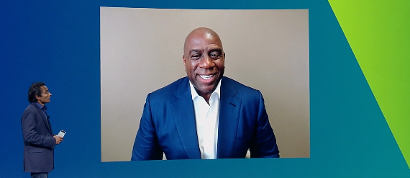 Join us tomorrow! 
Tomorrow, we have another incredible lineup of topics and speakers broken out into four main tracks: Information and Cloud Security, Threat Protection, Compliance and CISO/Thought Leadership. You can still join in all the fun by registering here. 
Subscribe to the Proofpoint Blog