Enterprise Data Loss Prevention
Information Protection
---
Data doesn't lose itself. People lose data—through negligence, malice and compromise. Proofpoint Enterprise Data Loss Prevention (DLP) is the only people-centric DLP solution that brings context across content, behavior and threats together for people-centric insight into and prevention of data loss.
Benefits
Adopt a People-Centric Approach to Enterprise Data Loss Prevention
Address real security and compliance issues
On average, it takes about 15 minutes to review an alert. This equates to 32 alerts a day if a you have a fully dedicated person assigned to only review alerts. And there's no time to work through a long alert list when you're trying to identify a malicious or compromised user.
Proofpoint adds both threat and behavior telemetry to content to determine intent and risk. Combining these into a modern timeline view helps you understand if the user that triggered the DLP alert is compromised, malicious or negligent.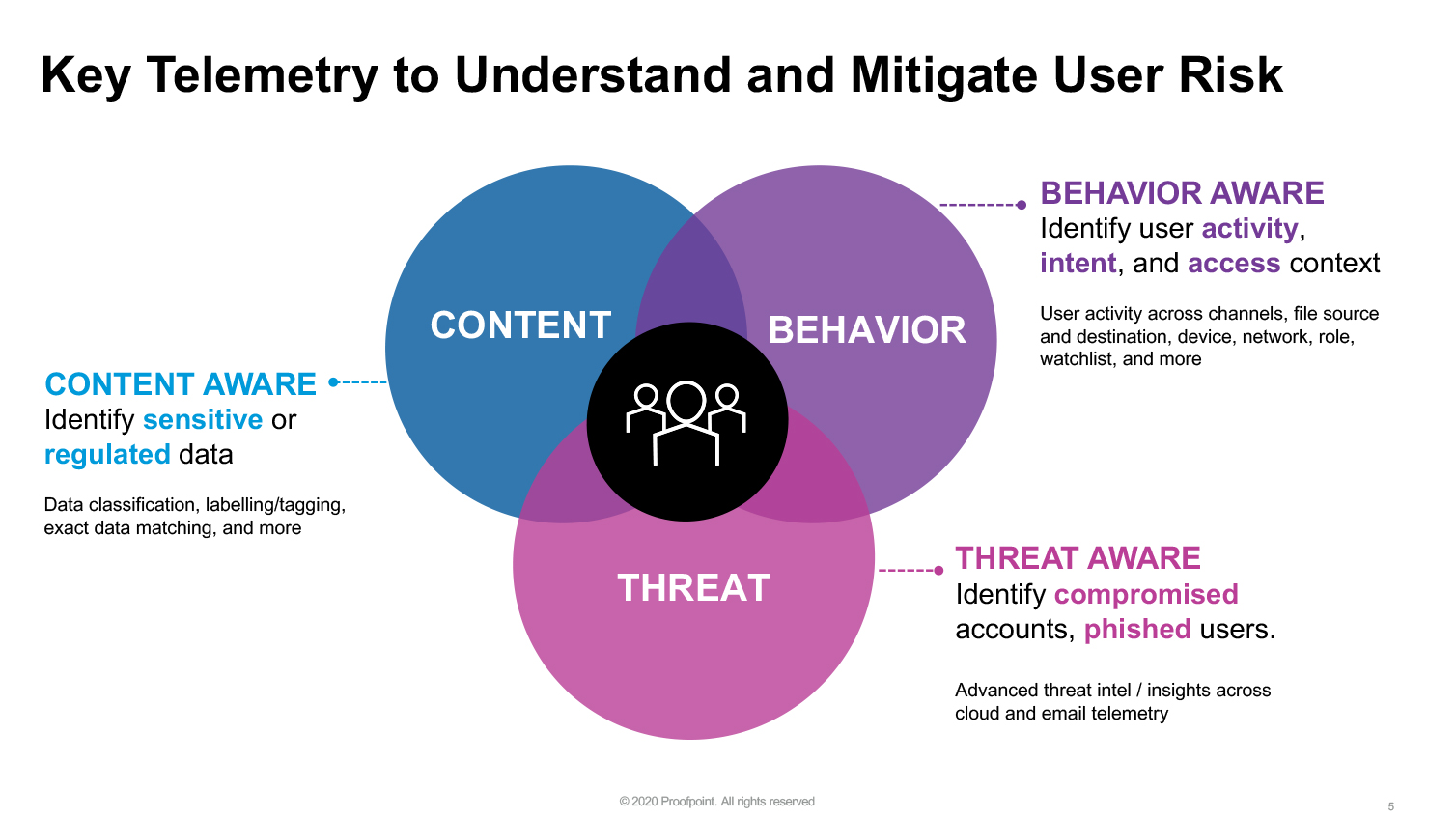 Tackle all your Enterprise DLP scenarios
Today, all data loss is inherently people-centric. Unfortunately, DLP solutions of the old world didn't have the telemetry and alerts looked the same. This relegating them to just a compliance check box.
By bringing together telemetry across email, cloud and endpoint, our Proofpoint Enterprise DLP solution allows your security and compliance teams to address the complete range of people-centric data loss scenarios—all in a single solution.
Easily apply common classification
Our common DLP classification can be applied across channels. And it easily complies with data protection regulations.
For Proofpoint customers who are existing single-channel DLP users, the classifications can also be made common and extended to a new channel, such as cloud applications. This saves you time and removes administrative headache.
Make faster decisions
With our people-centric approach, one can get to a faster response and investigation time. And not only within your security and compliance teams, but also with legal and HR departments.
With our unified incident and investigations interface, your security and compliance teams can respond quickly. Since visibility anchors on the person, you can shut down compromised cloud accounts or apply encryption to the email that triggered the policy.
What's more, your HR and legal teams can easily investigate the person at the center of the data loss.
Accelerate your ROI
When all of these people-centric risk reduction and operational cost savings are combined, you get faster time to value with your Enterprise DLP solution. This is something that wasn't possible with any previous generation of enterprise DLP solutions.
Simplify your program with a cloud-native architecture
A modern DLP product has three advantages over legacy DLP approaches. It's people-centric; it's a consolidated, easy-to-manage solution; and it has a scalable, cloud-based architecture. This architecture provides you with:
Scale sensors, storage and usage with your organization and use cases
Rapid deployment of DLP sensors without on-premises infrastructure headaches
Data residency requirements across the US and Europe, such as in GDPR
Privacy by design through industry-leading, attribute-based access controls
Extensibility to work in concert with your broader security ecosystem without engineering effort on your end