At Proofpoint, our people - and the diversity of their lived experiences, backgrounds, thinking, perspectives, and work skills - are the driving force behind much of our success. Everyone is valued and appreciated for their lifestyles, thoughts and talents, all of which contribute to the growth and sustainability of our business and the strength of our communities. 
June is a month-long global celebration of Pride every year in many countries. While we as a company stand with the LGBTQIA+ community each and every day, we join the world each June to recognize and celebrate the importance of inclusion and diversity at our company and in our communities.
This month, we are excited to run our inaugural Pride at Proofpoint blog series, where each week, we feature an employee who has volunteered to participate as a member of the LGBTQIA+ community or as an Ally.
This week's post features Michelle Owczarzak, AVP Security Awareness Training, based in Pittsburgh, Pennsylvania.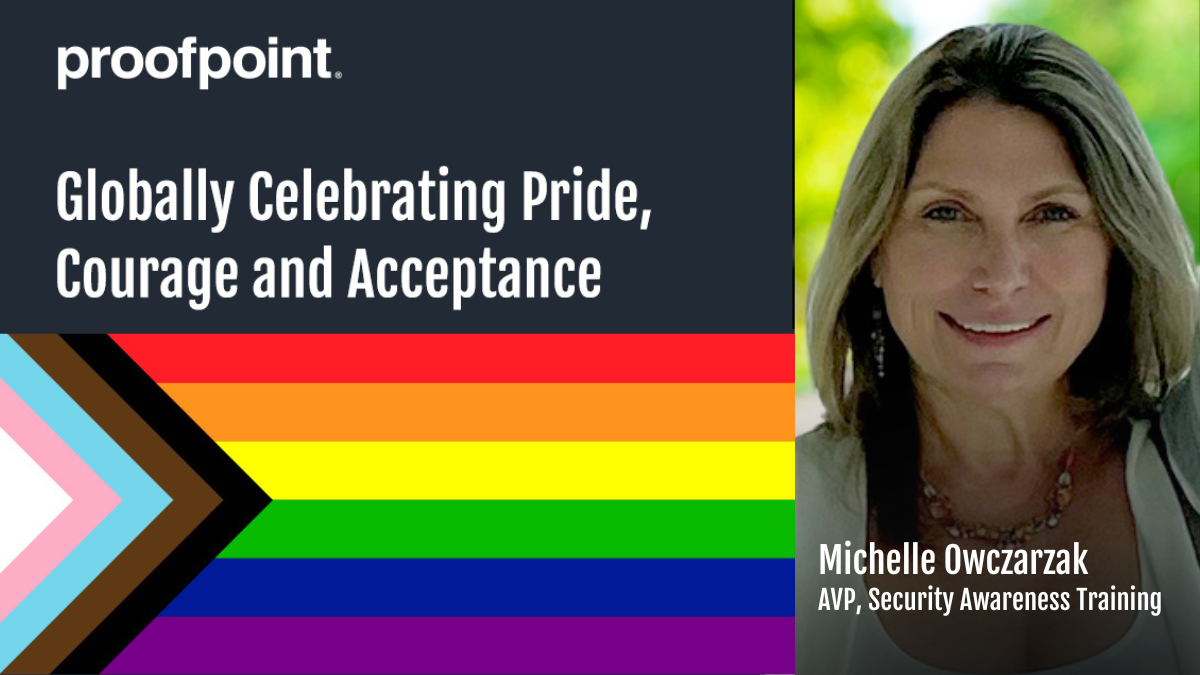 As an ally, how did you celebrate Pride this month?
"Oliver, can you put up the Pride flags on either side of the front door?" I call to my son on June 1st. We keep them up all summer and I love that I remembered because my other son, Sebastian, was arriving for a visit that Friday from Boston, Massachusetts.
Over the weekend Sebastian and I had time for just the two of us to catch up, where I was able to tell him about this blog post and ask for ideas to celebrate through the month. "Spend your money at Queer owned businesses" was his simple and actionable suggestion I was happy to partake in.
As a family last Saturday, we took part in the local Gay Straight Alliance Event in our county. I enjoyed celebrating and letting our LGBTQIAP+ friends and family know that we stand in love with them all year long.
What is something you've learned from the LGBTQIA+ community?
I recently saw a t-shirt that says, "Be careful who you hate, it might be someone you love." I thought it was a powerful message. I have learned that judgements make your world small and narrow. All of us have a role in making the world more inclusive for the LGBTQIAP+ community.
What does it mean to you that Proofpoint is celebrating Pride Month?
I am proud to be part of a company that takes its commitment to Diversity, Inclusion and Equity seriously. It matters that these principles are not just given a place in a handbook but rather are lived out in the culture of our organization.
Tell us about what you are doing as an ally to the LGBTQIA+ community to help create a more equitable world.
To me, being an ally is first about asking questions. I do not presume to understand what others face and therefore I prefer to ask how I can best show up in support of the LGBTQIAP+ community. In fact, that's what I seek to do: show up. There are many jobs that if you do them well you will find yourself out of work. For example, I have reflected that parenting is this way. While EIGs are a powerful way to promote inclusion, I hope for a future where the groups will be about celebrating diversity more so than a refuge for acceptance and tolerance.
What do you think are the most pressing issues that members of the LGBTQIA+ community face today? 
​I understand from my friends and family that members of the community are concerned that they may experience apathy as issues (at least for now) like marriage and adoption rights have been largely resolved. While these are significant victories, it seems that recent events demonstrate that nothing can be taken for granted and that preserving the rights of everyone will require ongoing vigilance. 
To learn more about Proofpoint and our employee culture, follow Life at Proofpoint on Twitter and Instagram, and Proofpoint on LinkedIn and Facebook.
#PrideAtProofpoint2022 #PrideAtProofpoint #LifeAtProofpoint
Subscribe to the Proofpoint Blog