At Proofpoint, our people - and the diversity of their lived experiences, backgrounds, thinking, perspectives, and work skills - are the driving force behind much of our success. Everyone is valued and appreciated for their lifestyles, thoughts, and talents, all of which contribute to the growth and sustainability of our business and the strength of our communities. 
June is a month-long global celebration of Pride every year in many countries. While we as a company stand with the LGBTQIA+ community each and every day, we join the world each June to recognize and celebrate the importance of inclusion and diversity at our company and in our communities.
This month, we are excited to run our inaugural Pride at Proofpoint blog series, where each week, we feature an employee who has volunteered to participate as a member of the LGBTQIA+ community or as an Ally.
This week's post features Anthony Lin, Senior Manager, Sales Engineering, based in Sunnyvale, California.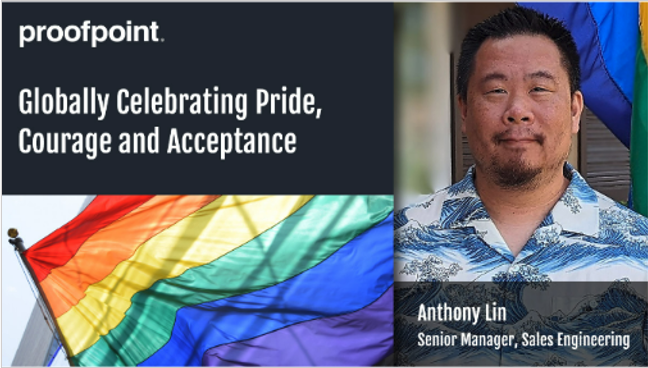 What does Pride represent to you?
To me, Pride represents a coming together and celebration that we in the LGBTQIA+ community are not alone and that we are loved. I'm fortunate to be part of such a great community where I feel supported. I no longer feel afraid of being my true self, because I didn't always feel that way. I attended high school in the 90s, where at that time there were no Pride groups and the topic was still sensitive. But throughout college, I started to meet more people like me. To express my full self was terrifying at first, but once I took that initial leap of faith, I felt better because I found support and connectivity that I didn't have before.
How has your participation in Pride events impacted your life?
 When I went to my first Pride event it was an amazing experience to meet others that accepted me for me. Meeting new friends and finding common ground was a pivotal turning point that made me feel supported, connected, and a sense of family and belonging that I didn't feel before. In turn, by being on this journey of finding myself, I am not afraid to be my true self. It has increased my confidence in general and has shaped who I am. Not only am I more confident, but I am bolder, and hopefully a mentor to others so they see that kind of strength within themselves.
By volunteering at San Jose Pride, local college groups, local sports clubs, namely a gay recreational volleyball team, my circle of friends has grown so much that it is a complete 180 degrees from my high school years. Knowing what this community has done to help me, I feel compelled to also give back and pay-it-forward to help others and to be an advocate and support for them.
Are there any traditions you and your family hold dear in the month of June?
As a newly minted parent, my husband and I have started a new family tradition of decorating our house with rainbow lights and flags throughout the month of June! This tradition is not just for my family, but I feel this is a huge step in hopefully starting a new neighborhood tradition as well. Our neighbors have never seen Pride month celebrated like this in our neighborhood before. My intent is not to be confrontational, but for it to be a symbol of being proud of who we are. It's a simple statement yet is so powerful to start conversations and bring awareness to others by which we can all build upon. Such a simple act of putting out the Pride flag, I believe, can further reinforce the connectivity and bond of not only our family but other families around us.
This month my husband and I were taking a walk around the neighborhood with our newborn, and one of our neighbors stopped us to congratulate us on our new addition. This kind gesture may sound insignificant to some, but it means the world to us because it shows a sense of community, allyship, and sparks a conversation where otherwise there might not have been. 
Why is it important to continue educating people about Pride Month?
 While some of us can enjoy celebrating our authentic selves here at Proofpoint, not everyone is comfortable or able to do so everywhere. Pride allows us to highlight the global support community that does exist -- marking where we've come from and what work we still need to do for a better future. 
What LGBTQIA+ historical figures and/or contemporary heroes do you find interesting or inspiring?
 ​As a nerdy kid, I grew up watching the original Star Trek TV series. It was also one of the few shows that featured a reoccurring Asian American cast member, George Takei. I could see myself as an astronaut or rocket engineer! 
Fast forward to 2005, as George publicly identified himself as a member of the LGBTQIA+ community. That resonated with me as he became one of the most recognizable Asian American advocates with his cutting wit and humorous commentary. His courage and tenacity inspired me to volunteer in local communities and support networks.
A few years later the day came when I met George in person for the first time! It was during my very first San Francisco Pride Parade that I ran into him eating at the local diner. I walked up to him and said "Thank you for all you do! Can I please have your autograph!" and he replied with his signature "Oh My!" 
​George continues to be my inspiration to this day and always reminds me that representation matters.
What about the Proofpoint culture helps you feel supported and accepted?
Proofpoint has a strong employee-centric culture which is very important to me. I think a huge part of the reason Proofpoint has had such a strong track record of growth and success is because of how much they value their people.  
When Proofpoint launched a formal Pride community, I was very excited to be part of its founding team. It's been awesome to see how much talent, strength, and passion the membership has offered up to this point. We already have over 100 members in our Pride EIG (Employee Inclusion Group), and I'm excited to be working with them and my fellow leads to make our inaugural year one to remember.
What tips do you have for fostering an inclusive environment where everyone is valued and can bring their whole selves to work?
Jump in! Raise your hand! Volunteer for an EIG! As one of the inaugural leaders creating the Proofpoint Pride EIG, it's been a joy making a positive impact to build community and share experiences at Proofpoint.
To learn more about Proofpoint and our employee culture, follow Life at Proofpoint on Twitter and Instagram, and Proofpoint on LinkedIn and Facebook.
#PrideAtProofpoint2022 #PrideAtProofpoint #LifeAtProofpoint
Subscribe to the Proofpoint Blog