At Proofpoint, our people—and the range of their experiences, backgrounds, perspectives, and work skills—drive our success. We embrace and foster the diversity of our team members, customers, and stakeholders. Everyone is valued and appreciated for their lifestyles, thoughts, and talents, all of which contribute to the growth and sustainability of our business and the strength of our communities.
September 15 – October 15 is National Hispanic Heritage Month. During this time, we celebrate the marking of the independence anniversary of the Latin American countries by recognizing the vibrant cultures, contributions and history within the American Latino community.
When we draw on the wisdom of a workforce recruited from all segments of society, we can better understand and meet the needs of our employees and customers.
This month, we are excited to run our inaugural blog series for Hispanic Heritage Month, featuring employees who are part of our Adelante, our Latinx/Hispanic Employee Inclusion Groups (EIGs) community.

Hear from the author: 
Oscar Munoz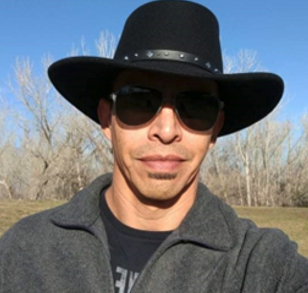 It's hard to limit what I'm proud (orgulloso) of from my Mexican heritage to simply one thing. A few things I'm very proud of from my Latinx culture would have to be a strong work ethic, a tight family bond, and Latino food. My parents and extended family showed us how to have a strong work ethic by "doing." I spent countless mornings waking up at 2 a.m. to begin picking fruit by 3 a.m. and end by noon. In my family, we have always kept busy and had the mentality of "nunca te rajes" (never give up!). Working alongside my relatives and neighbors, I witnessed firsthand how hard they worked to better themselves and make a better life for their families. As the saying goes, "it takes a village," and my village extended far beyond my immediate family and neighbors. It included every person I encountered, regardless of ethnicity, history, or background. The lessons I learned from them helped mold me into who I am today.  
This Hispanic Heritage Month, I plan to celebrate and honor my culture through the 2 F's: food and family. Every September, my family and extended family get together for Mexico's Independence Day (September 16). We use this time to catch up with each other and what is happening with each other's families. There is never a shortage of food, drinks and laughs. It is wonderful to build the community and strengthen our shared love for one another by sharing stories around the table.  
Without fail, we always include non-Latino friends in our gatherings, and they are always amazed at how close my family members are and how welcoming we are to anyone who arrives. That is just the Mexican way–being so welcoming and open to everyone you meet. Once you are invited, you are treated as a family member, including some friendly banter.  
Something I firmly believe is that everyone, Latino and non-Latino alike, can share their support and celebrate Latinx culture. First, open your minds and open your hearts. There is a lot of prejudice in the world, and we see more than enough prejudice in the news and on the internet every day. Make friends with someone who doesn't look, act, or think the way you do. Why? Because this expands our understanding and helps build empathy by learning different ways of thinking. People share different ideas and listen to each other rather than argue about right and wrong. You'll often find that there are reasons behind why people think and behave a certain way in each other's history. 
Lastly, try a new Latinx meal. My personal favorite example of this is corn on the cob. There are countless ways to prepare corn on the cob, but I believe Mexico has the world beat on how we prepare ours. I have my younger brother to thank for this next bit, and we have opened many of our friend's eyes and taste buds to a different way of eating corn on the cob. If you've not tried corn on the cob with mayonnaise, you are missing out!!! Take it a step further, sprinkle some parmesan cheese and Tajin, and enjoy the delicacy. I could go on and on with variations on how to eat corn on the cob, but I'll leave your mouth watering.  
Embracing and reflecting on how my Mexican culture has shaped me fills me with pride and joy and helps me stay grounded in my identity. Whatever culture or heritage you come from, I hope you can embrace it and connect with elements of your heritage that have created you into the person you are today, with all the flaws and all the strengths you bring to the table. Sigue Adelante (keep moving forward) and be proud of who you are! 
To learn more about Proofpoint and our employee culture, follow Life at Proofpoint on Twitter and Instagram, and Proofpoint on LinkedIn and Facebook.
Subscribe to the Proofpoint Blog