Yesterday, we kicked off our flagship annual conference, Proofpoint Protect, and virtually welcomed nearly 4,000 guests, including Proofpoint customers and other security and compliance professionals looking to better understand how to build and implement a people-centric security blueprint.
Experts from Proofpoint from around the globe presented on topics from email security, cloud security, information protection and compliance to security awareness training and CISO/Leadership strategies. More importantly, we had over 30 customers share their Proofpoint journey—from CISO leadership topics to best practices defending against cloud threats to metrics of cost savings and risk reduction from Proofpoint email security products.
And presenting at home didn't stop my co-hosts Blake Salle, Ashan Willy and Nate Chessin from dressing up! Our colorful jackets were such a hit, several customers asked us where to buy them!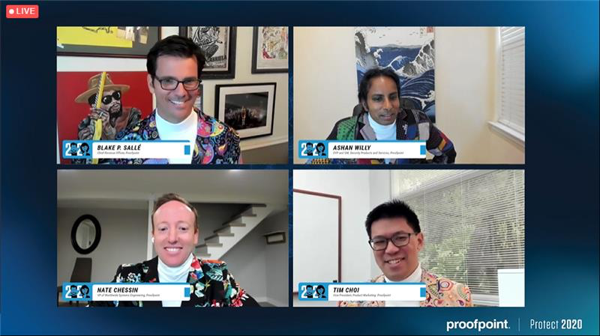 Below are the top six highlights from day one of Protect. If you missed out, you can watch all these sessions and more on-demand by registering for the conference here.
1. Opening Keynote
Gary Steele gave the opening keynote, sharing top Proofpoint priorities, product announcements and showcasing how the incredible amount of data in cloud and email gives us unique people-centric insights and visibility.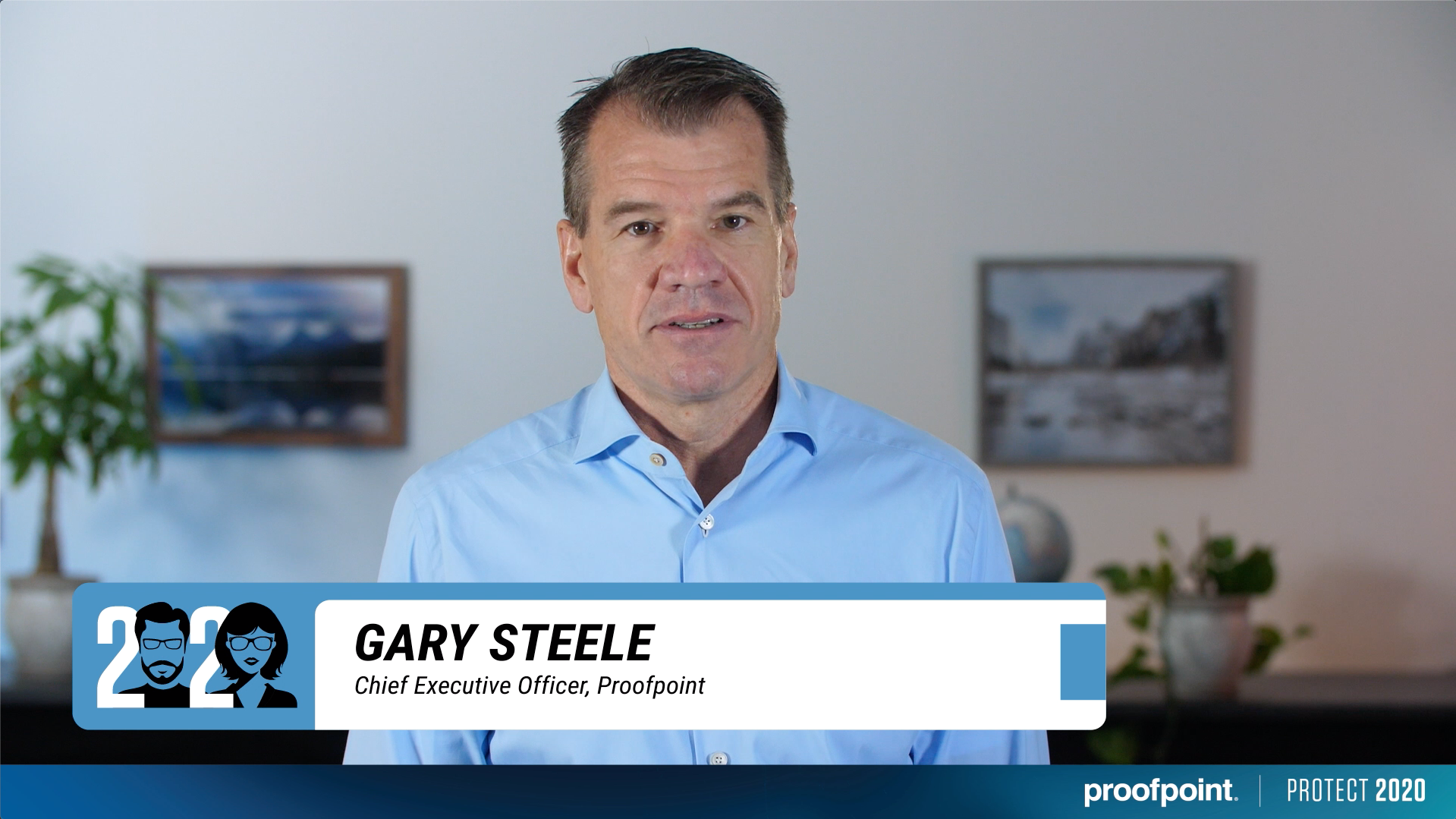 2. Risky Business Live
Patrick Gray, the host of the world's most influential infosecurity podcast, Risky Business, discussed the 2020 threat landscape with Sr. Director of Threat Research, Sherrod DeGrippo. They explored some surprising attack trends coming out of Iran, how COVID-19 is influencing social engineering techniques, and much more.

3. Customer Speakers
We welcomed a range of customer speakers who shared a lot of great learnings. Here are some of their quotes:
"The community at the university loved the ability to click on a button, the email disappeared and something happened. Our reporting rate went through the roof…that really helped secure our environment better." —Rebecca Harness, CISO, Saint Louis University
"Within 30 days of implementation [of CASB DLP], I had metrics that demonstrated a reduction in inappropriate sharing of sensitive data. And I didn't have to add security staff.  I had the tools to alert users and let them know when they were doing something inappropriate. —Sonja Hammond, Chief Information Security Officer, National Veterinary Associates
"Prior to adopting Proofpoint's email and CASB DLP, we had two to three, maybe even four DLP vendors at one point, providing different levels of DLP services. We had tons of infrastructure on-premises and different teams managing a different components. It made sense to consolidate everything on one central console and to take advantage of one set of rules that will alert on suspicious activity. And one team to look after it." —Brian Tschinkel, Chief Information Security Officer, Weill Cornell Medicine
4. People-Centric Product Innovations
Exciting new people-centric product innovation announcements include:
People-centric

Enterprise DLP Platform

, which brings together the Proofpoint cloud, email and endpoint DLP solutions

Nexus People-Risk Explorer

, which empowers CISOs and strategic security leaders to identify risky users, including the most attacked, most vulnerable and most privileged within an organization

Proofpoint CASB infrastructure as a service (IaaS) and DLP functionality, which not only offers account protection, discovery and governance but also allows users to detect DLP incidents for swift remediation.

Enhance Proofpoint Business Email Compromise (BEC) and Email Account Compromise (EAC) Protection including a detailed

imposter threat view

that reveals different BEC techniques including fake invoicing and payroll direction.
5. Breakout Session on Merging Cloud and Email Security Products
The breakout session, "Threat Actors' New Blueprint: Combining Email and Cloud Threats" dived into how attackers are merging email and cloud attack vectors to target people more effectively, highlighting the importance to bring one's email and cloud security products together.
6. CISO/Leadership Learnings
Valuable CISO/leadership sessions including "Strategies for Engaging with Your Board of Directors and a vertical session for CISOs in the healthcare market
My co-hosts and I look forward to hosting again today (and yes, our snazzy jackets will be back too). If you're interested in joining or watching these sessions on-demand, register here for Protect 2020!
Subscribe to the Proofpoint Blog