Cybersecurity Leadership Certification
Enrollment deadline is Oct. 31st at 5 pm PT!
2022 graduates, renew your badges for 2023 here.
Proofpoint Certified Identity Threat Specialist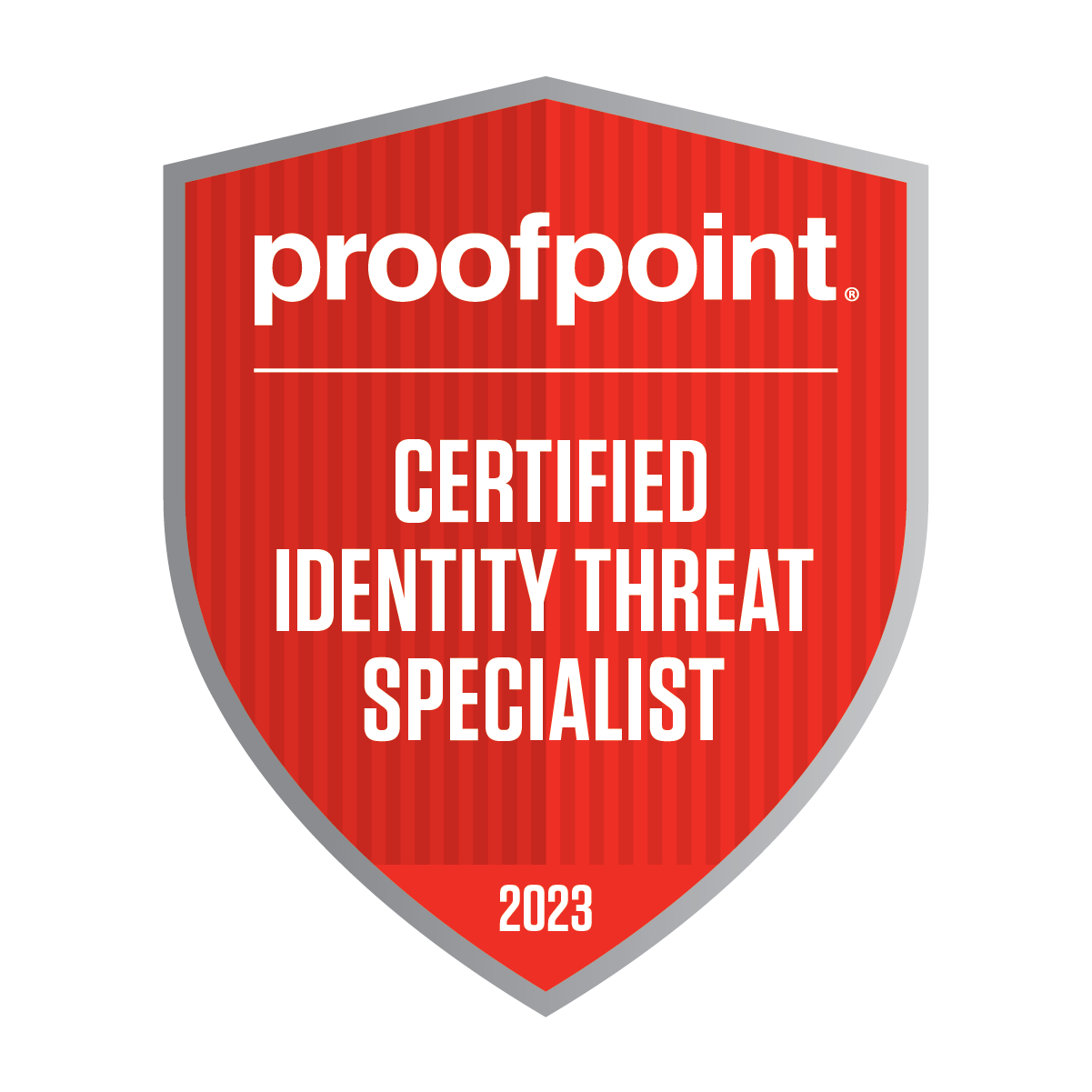 Fridays on November 3rd, 10th & 17th | 10-11 am PT | 1-2 pm ET
In today's digital world, protecting privileged identities is crucial—especially in light of the ongoing ransomware epidemic. Attackers are increasingly adept at using identity-based tactics to breach accounts, gain unauthorized access to sensitive information, and acquire the elevated privileges necessary to launch disruptive attacks like ransomware. In the past year alone, 84% of organizations fell victim to an identity-related breach1. These attacks often traverse identity infrastructure—from privilege escalation to lateral movement through Active Directory, and even in cloud environments such as Microsoft 365 and Entra ID (formerly Azure AD).
Join our certification program to learn the fundamentals of digital identities, why identity threat protection is crucial for cyber defenders, and how to build a holistic identity threat program to protect your people and data.  
Becoming certified is easy. Just register and attend the three 1-hour courses listed below, pass the exam at the end of each course, and earn your certification! 
This track is intended for all levels of cybersecurity administration roles. These are NOT technical training sessions. For product or solution-specific education, please visit our web-based accreditation and instructor-led technical courses. All courses are eligible for CPE credits through ISC(2).
1 Identity Defined Security Alliance. "2022 Trends in Securing Digital Identities." 2022. 
Course 1
Foundations of Identity Threat Defense
To effectively protect against identity threats, you must first understand the fundamentals of how digital identities function and how organizations manage them—from authorization and access to monitoring to threat response. 
In the first course of our three-part certification program, we will explore: 
The definition of identity and key identity terms 
The history of Active Directory and why 95% of organizations leverage it2 
The cross-functional teams typically responsible for managing identities 
2 Adaxes. "Active Directory Facts. Infographics." 2023. 
Course 2
The Problem with Conventional Identity Threat Defense
Today, most organizations deploy Multi-Factor Authentication (MFA) and/or Privilege Access Management (PAM) to authenticate users and manage their access to sensitive data. However, because of the volatility and ever-changing threat landscape, these privilege access and authentication solutions are not enough.
In our second course, we will dive into the vulnerabilities of this traditional MFA and PAM approach and why organizations must implement more controls to uncover attack paths and stop lateral movement.
Join us to learn about:
How attackers get access to highly privileged accounts in environments that leverage PAM 
How attackers get around MFA protections, from adversary-in-the-middle phishing to stale and service accounts 
How to address common implementation gaps of these tools 
Course 3
How to Build a Comprehensive Identity Threat Protection Program
Understanding the core aspects of your identity-based environment is important—but it's not enough to keep your people and data safe from identity-based threats.
To effectively defend your organization, you need to understand what it takes to build a comprehensive identity threat protection program—one that uncovers attack paths before attackers do, and stops lateral movement. 
In our last course of the certification series, you'll learn: 
How to assess your organization's identity threat posture 
The best practices for building an identity threat defense program, including people, process, and technology 
How to move from point-in-time analyses of identity threats, like red teams, to operationalize identity risk mitigation  
FAQs
There are some questions:
What email should I use to register?

Keep in mind that in order to be able to take the exams, you must use a business email. Please do not register with a personal email such as those with the domain "gmail" or "yahoo." 

Please consistently use the same email you registered with throughout the program to ensure the accuracy of tracking your attendance towards getting certified.

I can't get into the live session, it says it's full.

Please note that our live sessions have a seat limitation and will be on a first-come first-served basis. If you are unable to join the live session, you can always watch the recording on-demand to count towards your certification.

What if I am unable to attend one of the live sessions?

If you are unable to attend a live session, you may watch the recording and take the exam by Dec. 22nd, 5 PM PT. All live sessions will be recorded, and you may access the videos from an email that will be sent soon!

What is considered a passing grade for each course?

To pass a course, you would have to attend the session either live or watch on-demand and take the exam at the end of the course. You need to score 100% on each exam to pass the course.

How many times can I retake the exams?

You have unlimited attempts to take the exams to get 100% scores to pass the courses.

How long will the recordings and exams be available for me to access?

You will have until Dec. 22nd, 5 PM PT to access the course recordings and exams to complete your certification.

How long is each course?

Each course is about 1 hour long. 

How much does the certification cost?

The courses and certification are free.

Do I need to watch all three sessions?

Yes. You are required to watch all three sessions (either on-demand or live) to be eligible for your certification in addition to passing all of your exams. 

When will I receive my exam link?

After you have watched the session (live or on-demand), you will receive an email within 1-3 business days after the live session, with the exam link.

I can't take my exam, it won't allow me access.

If you are running into problems accessing the exam, here are some ways you can try to resolve the issue:

Please try to get the exam link whitelisted
Turn off your company VPN, it might be blocking the website
Use a personal computer to take the exam

I've completed the exams. How do I redeem my badge & certificate?

We will review your submission/attendance and issue your certificate during the beginning of January. You will receive an email from our trusted vendor Credly (admin@credly.com) with instructions on how to access your digital badge and certificate.

 

For the AI/ML Certification, you will be issued your badge and certificate via Credly at the beginning of October.

My badge expired, how can I get it renewed?

All 2022 graduates for Ransomware, DLP, and Phishing are eligible to get their badge(s) and certificate(s) renewed for 2023. Follow the instructions at the link here.