We recently announced the Nexgate Social Threat Center, a real-time social media security operations console. As it is a console, at first, some people may be tempted to focus on the direct advantage of data visualization, having insightful information at your fingertips. Yet, the true value of this powerful dashboard lies in how it will support you and your teams to "take immediate protection action where it matters most".
Let's step back for a minute to give an overview of what is unique in Nexgate Social Threat Center:
A single console to cover three areas—social account discovery, security and compliance.
Ability to zoom in on most critical threats.
Detect threats and respond in one tool—close the loop.
This last point, closing the loop between social threat detection and threat response is clearly the motivation behind the ability to take immediate protective action. Considering the rise and damage of advanced persistent threats, there is a clear shift of emphasis in the security market from prevention to a better equilibrium between prevention, detection and response. As mentioned in an earlier blog post on advanced threat detection, your return on detection is protection. This applies all the same to how to approach risks with social media. Sending alerts, calculating risks are important but not sufficient, hence the value to understand how to 'close the loop' with Nexgate Social Threat Center.
To see actionable detection in motion, have a fresh look at this demo video walking you through Nexgate Social Threat Center showing at the bottom of this post.  Below the video, the handy recap of possible actions by type of risks can serve you as a quick reference table to focus on what is available to you to take immediate protection action.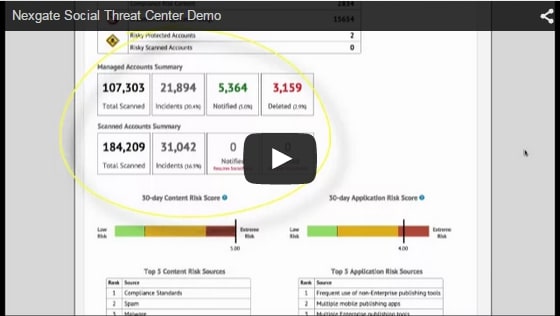 Summary table of social media risks and protective actions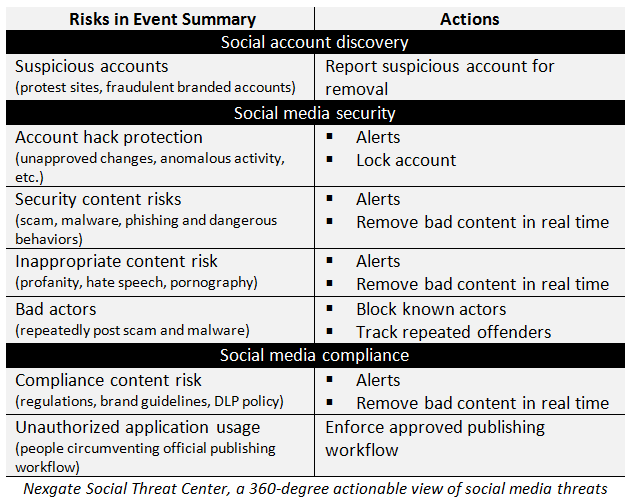 Subscribe to the Proofpoint Blog