Large enterprises and worldwide brands are often portrayed in the news as being the most likely victims of the latest cyber threats and data breaches. But small and medium-sized businesses (SMBs) are also appealing targets for cybercriminals. In fact, Proofpoint's research shows that there is zero correlation between who threat actors target and an organization's size or industry. That is why SMBs need enterprise-class security solutions to protect their biggest security risk: the people.
People within SMBs are being targeted mostly through email--90% of all attacks today start with a targeted email using social engineering relying on users to click a malicious link, run malicious code or give up their credentials making people the number one attack target.
Solving the problem isn't easy. SMBs make prime targets for threat actors today because: 
SMBs traditionally don't have the same budget to spend on security as large enterprises do to protect themselves leaving their people vulnerable for that next attack. 
SMBs typically don't have the personnel to manage complex solutions and get the threats handled.
Attackers see SMBs as an easy target.
SMBs need an enterprise-class security solution that is easy to manage so they can protect against the email threats that are targeting their people, but also cost-effective at the same time.
Proofpoint has made a substantial upgrade to Essentials for Small Business, an affordable solution that has been designed and tailored for SMBs leveraging the same technology as our enterprise solutions to give protection against malware-based threats such as emails that contain malicious links and attachments, and also malware-free threats such as email fraud and credential phishing.
In the latest release, Proofpoint Essentials enhanced the solution by offering a modern user experience that gives administrators the information and tools they need to easily make security decisions. The release also features a new intuitive interface that details both threat types and attack frequency giving granular threat insights to easily make security decisions, a dashboard that has been optimized to be both mobile and tablet friendly and finally an experience that makes it easily manageable from setting security settings to searching users and logs.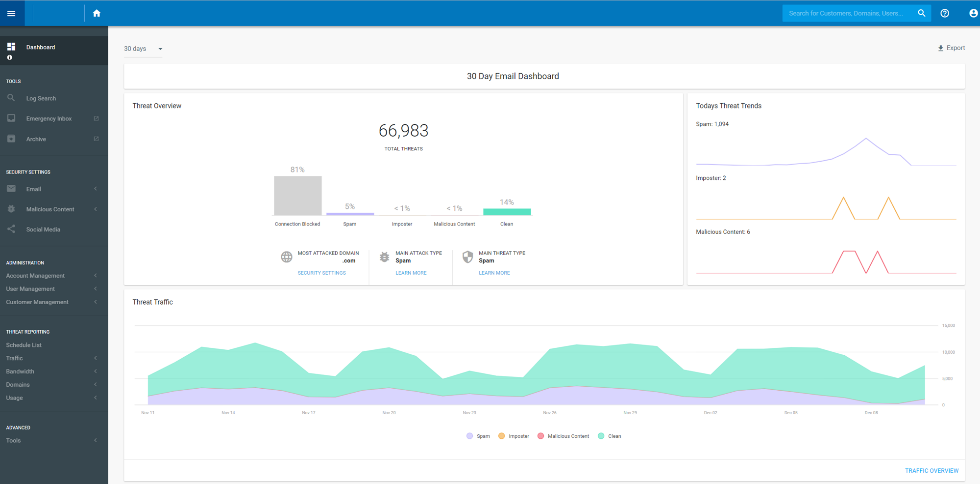 Proofpoint Essentials has also been recognized as a top player in the market by SC Magazine as the "Best SME Security Solution" for two consecutive years and has also been given a AAA rating for Email Security Services Protection by SE Labs in December of 2018.
To learn more on how Proofpoint Essentials can protect your organization, click here.
Subscribe to the Proofpoint Blog