This year has quickly changed the way many organizations work. The coronavirus pandemic made the world question the boundaries of the office—perhaps permanently. With the rise in remote work and cloud-based tools come new insider risks for security teams. In the modern workforce, the perimeter-based approach to security no longer works. 
Our new infographic shows how to secure the new people-based perimeter. It's global, mobile, and constantly changing. This post covers the four steps you should take to navigate your insider threat journey in 2020 and beyond. Each step links to a guide to help you:
 Learn more about the insider threat problem

 Set up an insider threat program

 Adopt people-centric cybersecurity tools

 Protect against insider-led data breaches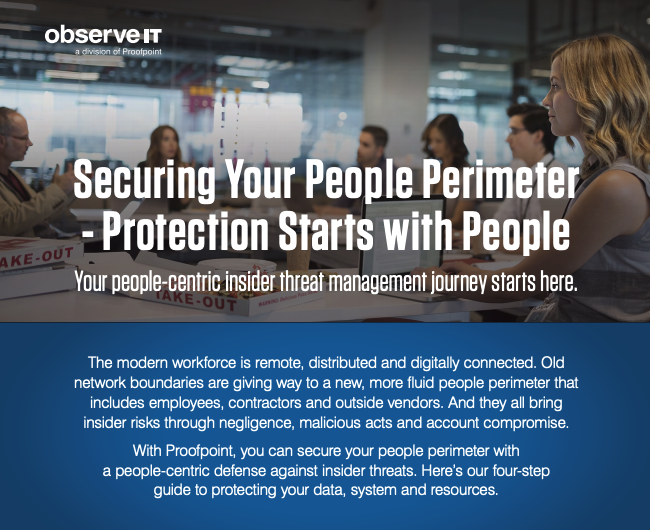 Step 1: Introduction to Insider Threat Management (ITM)
What it is:  With costly insider threats on the rise, companies can't afford to ignore insider-caused risk. The first step in our eBook series talks more about the nature of the insider threat problem. This asset includes tips for how to prevent insider-caused data loss across various industries and business use cases. 
Why you should read it: Knowing more about insider-caused risk is the first step in defending the new people perimeter. This guide helps make the case for increasing focus on ITM, including data and actionable tips to execute today.
CTA: Get the eBook
Step 2: How to set up your insider threat program
What it is: An insider threat program starts with setting your team up for success. This includes having the right frameworks in place, the knowledge to implement them, and the tools to measure success.
Why you should read it: This practical guide will help you set up your own insider threat management program and scale it based on your business' needs.
CTA: Get the guide
Step 3: ITM and cybersecurity tools
What it is: Many traditional cybersecurity tools are designed to defend the organization's perimeter, not its people. This guide shows you where traditional tools fall short of defending against insider threats. It also introduces new people-centric security tools for the modern organization.
Why you should read it: Technology is a critical part of executing an effective ITM program and can ease the burden on understaffed security teams. Learn how to evaluate the tools in your arsenal, and how they can support your people and processes.
CTA: Get the tools
Step 4: Protecting your organization against an insider-led data breach 
What it is: Purpose-built ITM software can help supplement your existing cybersecurity tools, making them more effective. ITM software provides context and visibility into the unique, people-centric problem of insider risk.
Why you should read it: Waiting to respond to an insider-led data breach is too little, too late. ITM tools can help you proactively address the increased insider risks of 2020 and beyond.
CTA: Get the eBook
Insider threats are a unique cybersecurity challenge that requires a mix of people, processes, and technology to address. September is Insider Threat Awareness Month, which is the perfect time to level up your insider threat management program. Wherever you are in your insider threat journey, we're here to help. Ready to give Insider Threat Management a try? Request a free trial here.
Subscribe to the Proofpoint Blog