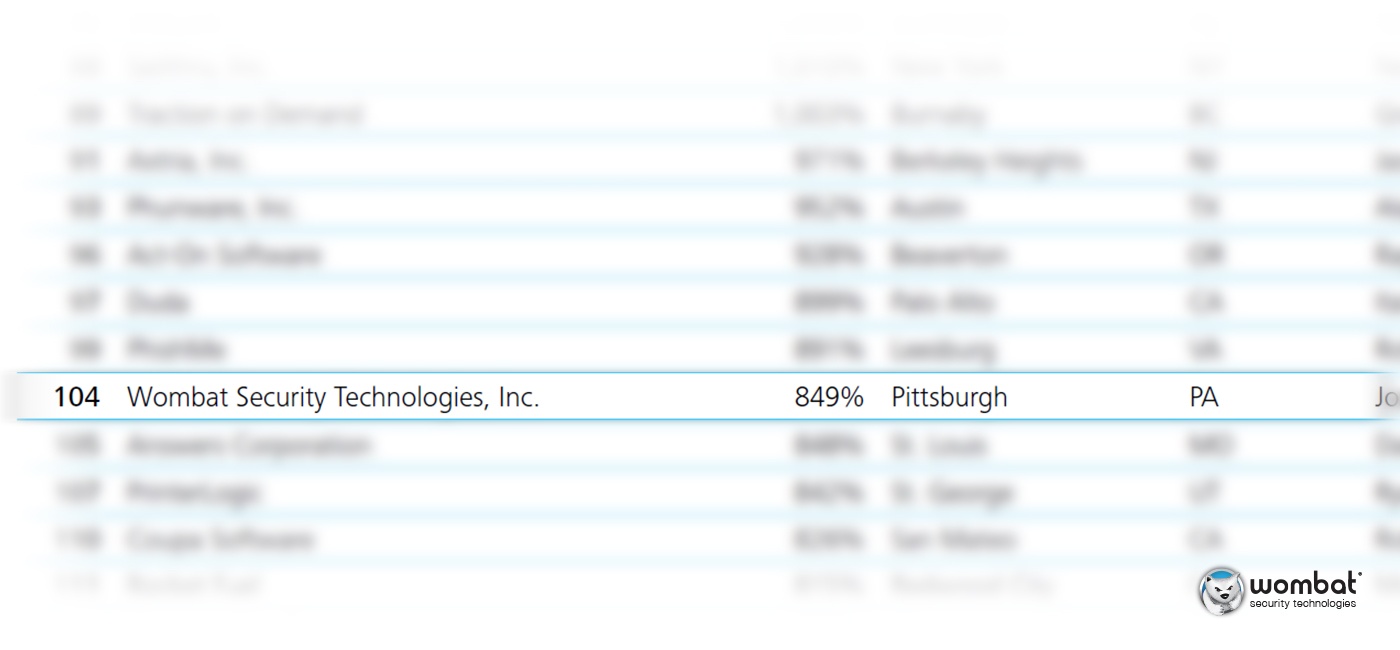 Wombat Security is pleased to announce that we have been ranked 104 on Deloitte's Technology Fast 500™, a listing of the 500 fastest growing technology, media, telecommunications, life sciences, and energy tech companies in North America. Deloitte calculated an 849% growth for Wombat during its measurement period, and according to this ranking, we are the fastest growing company in the state of Pennsylvania.
As cyber threat levels continue to rise, more and more organizations are recognizing that security awareness training programs can decrease the number of employee-initiated security incidents. In speaking about the Deloitte ranking, Joe Ferrara, Wombat President and CEO, gave credit to our differentiated and innovative Continuous Training Methodology, which has been proven to help organizations change employee behaviors and reduce the risks associated with malicious attacks and poor cyber hygiene.
"In today's market, employee awareness and education plays a critical role in preventing a range of cyber attacks, which continue to increase in volume and sophistication," said Ferrara. "We are excited to be included in Deloitte's ranking, which we believe demonstrates a strong and growing market for security awareness and training and also illustrates the proven effectiveness of our comprehensive security education program."
"Amid a fierce business climate, there seems to be no shortage of new and established companies that are unlocking a seemingly unlimited potential for growth and advancement through technology's continued disruption and proliferation across industries,"
"It is inspiring to witness the innovative ways that companies are incorporating emerging technologies for business gains, be it cognitive computing, or the Internet of Things. We congratulate all those ranked on this year's Fast 500 and look forward to seeing their continued growth into 2016," said Sandra Shirai, a Deloitte Consulting LLP principal and leader of the organization's U.S. Technology, Media, and Telecommunications (TMT) practice.
The Deloitte Technology Fast 500 award winners were selected based on the percentage of fiscal year revenue growth from 2011 to 2014. Since 2014, Wombat has acquired ThreatSim, a leading provider simulated phishing and spear phishing assessment, and has been recognized by Gartner as the clear leader in the 2015 Magic Quadrant for Security Awareness Computer-Based Training Vendors for the second year in a row. We have also received a number of industry accolades and awards, including the following:
Subscribe to the Proofpoint Blog