Leading IT research and advisory firm Gartner, Inc. has released its 2019 Magic Quadrant for Security Awareness Computer-Based Training (CBT), and we're excited to share that we've been recognized as a Leader for the sixth year in a row.*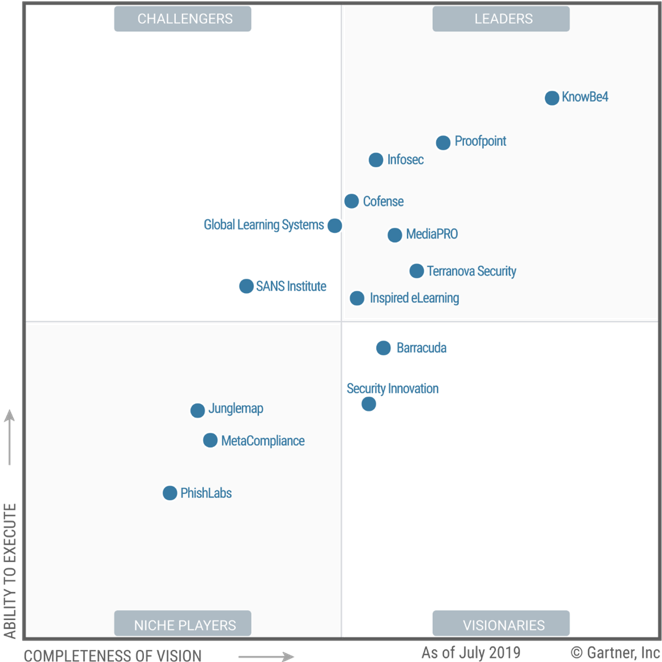 "We believe our position as a Gartner Magic Quadrant leader for six consecutive years is the result of our people-centric approach to security awareness training. We deliver curated content that allows our customers to educate their most attacked people and enable them to be both a strong last line of defense and a key source of threat intelligence," said Ryan Kalember, executive vice president of Cybersecurity Strategy for Proofpoint. "Nearly all targeted attacks require human interaction to succeed and continuous security awareness training, that delivers the right education to the right people at the right time, is one of the most effective ways to reduce risk."
Fourteen vendors were evaluated for this sixth annual Security Awareness CBT Magic Quadrant. For those unfamiliar with Gartner's Magic Quadrant approach, it provides a graphical competitive positioning*** of providers in fast-growing technology markets, and divides these providers into Leaders, Visionaries, Challengers, and Niche Players. The goal of this visual representation of the market is to help organizations quickly identify the technology providers that are best positioned to help them succeed.
What Makes Proofpoint Security Awareness Training Unique?
As a leader for six consecutive years**, Proofpoint has been committed to delivering the most effective security awareness training for our customers. Backed by Proofpoint's technology, we're expanding our solution be more comprehensive and effective. Proofpoint is the only vendor positioned to identify the actual attacks people are receiving and map that to the training users need to take.
Threat Intelligence Infused Into Security Awareness Training
Proofpoint's world-class Threat Intelligence integrates directly into our security awareness training and offers more realistic simulated attacks, training content, and automation of the email reporting and analysis process.
Our Threat Intelligence has real-time data that spans email, social media, and cloud apps from more than:
5 billion daily emails
200 million social media accounts
250,000 daily malware samples
We use this insight to understand how people are attacked and how we can deliver more effective and relevant security awareness training.
Deliver More Effective, Engaging, and Customized Content
Our Interactive Training has always been a step ahead of the competition in engaging end users and driving behavior-change better than traditional passive training. Our short, 5-15 minute training modules can be taken on any mobile device and utilize Learning Science Principles to ensure better retention of training content.
All our content is built in-house and continually refreshed based on the latest threat landscape so your users receive consistent guidance and messages on what to do when faced with a real-life threat.
But effective content is also about customizing the message to your end users. In July 2019 our Customization Center will allow customers to edit their content and create customized versions of their Interactive Training more suitable to their policy or for certain roles, departments, or regions.
With our Business Intelligence tools, we cannot only assess user susceptibility to simulated attacks and knowledge assessments, but our reports provide detailed insight into users' interaction with and understanding of our training content.
Your Knowledgeable Users are your Last Line of Defense
We think it's time to start considering trained end users as an asset and an organization's last line of defense against active attacks – and we have a truly innovative solution to do so.
Our recently-enhanced Closed Loop Email Analysis and Response (CLEAR) solution takes our email reporting and analysis capabilities and expands it further by leveraging our Threat Intelligence to help automate and streamline the process:
End users can report phishing emails with one click using our PhishAlarm® button
Emails are automatically analyzed and enriched with multiple sources of Proofpoint Threat Intel and then dispositioned as malicious, suspicious, spam, or bulk
Malicious emails can automatically or with one click be quarantined or deleted by Threat Response Auto-Pull (TRAP) from end users' inboxes
Customers have the option to fully customize their CLEAR process. They can automate the remediation of certain classifications of reported emails, or use TRAP's ability to quickly enrich, investigate, and have their internal teams quarantine or delete messages.
The Future of Security Awareness Training at Proofpoint
We're thrilled to be named a Leader and to be recognized by Gartner for delivering security awareness training that is making a difference in thousands of organizations around the world. But we're committed to investing more in protecting your people.
Proofpoint's Very Attacked People (VAP) report shows you exactly who your most-attacked end users are in your organization and what kind of attacks they're receiving. We're using this data in combination with simulated attack and knowledge assessment data to understand at a much deeper level the end-user risk landscape and drive our customer's security awareness programs to addresses risk without wasting users' time.
"Cybercriminals are targeting people, not infrastructure, to access critical systems, siphon funds, and steal information. It's essential to educate today's workforce on how to identify and help stop the near-constant onslaught of cyberattacks that they will undoubtedly face," said Kalember."
We're looking forward to driving the security awareness training market forward for many years to come, and encourage you to download your free copy of the report now.
* Source: Gartner, Magic Quadrant for Security Awareness Computer-Based Training, Joanna G. Huisman, 18 July 2019. 
** In 2014, 2015, 2016, and 2017 Wombat Security Technologies was positioned as a Leader in this Gartner Magic Quadrant. Wombat was acquired by Proofpoint in March 2018 and was named a leader as Wombat Security, a division of Proofpoint. Wombat Security is now Proofpoint Security Awareness Training.
***Gartner Magic Quadrant Research Methodology, available here: https://www.gartner.com/en/research/methodologies/magic-quadrants-research
Please note: This graphic was published by Gartner, Inc. as part of a larger research document and should be evaluated in the context of the entire document. The Gartner document is available upon request from https://www.proofpoint.com/us/resources/analyst-reports/gartner-magic-quadrant-security-awareness-training.
Gartner does not endorse any vendor, product or service depicted in its research publications, and does not advise technology users to select only those vendors with the highest ratings or other designation. Gartner research publications consist of the opinions of Gartner's research organization and should not be construed as statements of fact. Gartner disclaims all warranties, expressed or implied, with respect to this research, including any warranties of merchantability or fitness for a particular purpose.
Subscribe to the Proofpoint Blog