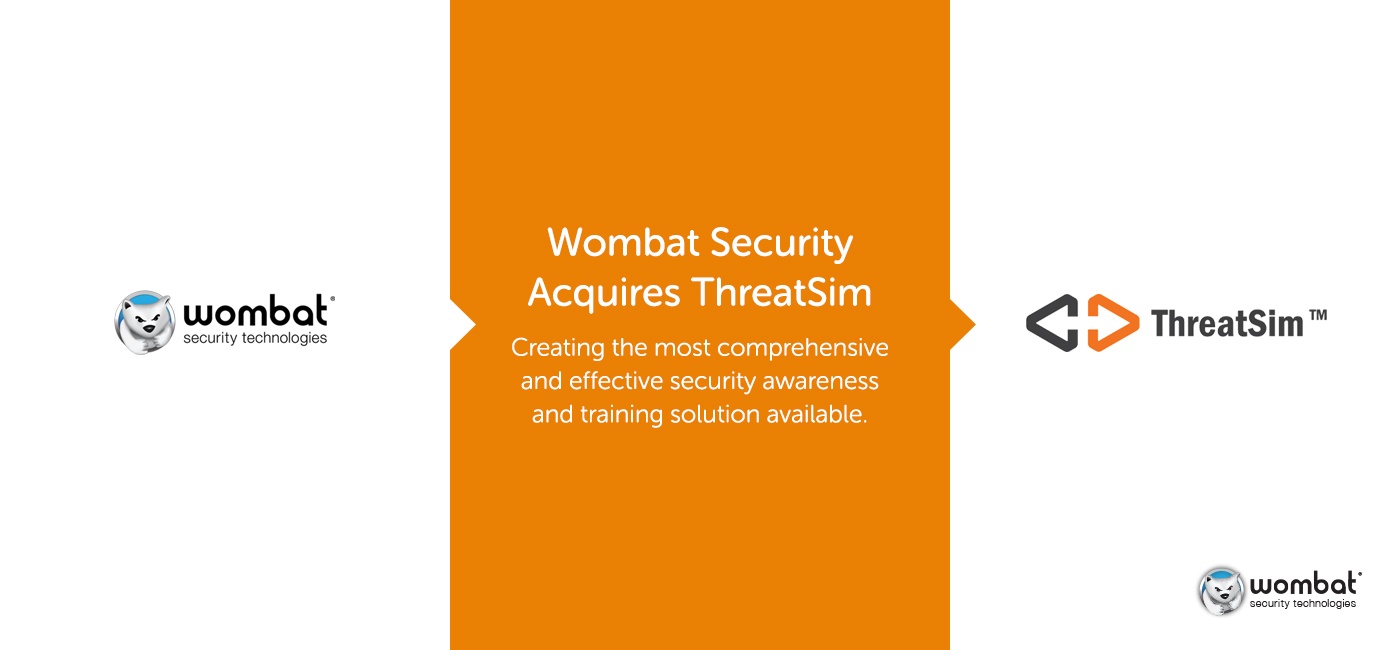 This has already been a National Cyber Security Awareness Month to remember for all of us here at Wombat. Just days ago, Gartner recognized us — for the second year in a row — as the clear leader in the 2015 Magic Quadrant for Security Awareness Computer-Based Training Vendors. Now, we are thrilled to announce the acquisition of ThreatSim®, a Reston, Virginia–based provider of SaaS-based simulated phishing attacks and "just-in time teaching" for end users.
The ThreatSim approach mirrors that of our PhishGuru® product, namely simulated attacks paired with in-the-moment advice delivered to employees who fall for a mock phishing email. At Wombat, we refer to this real-time intervention as a Teachable Moment, and we feel these brief, targeted messages are the ideal way to connect the dots between simulated real-world assessments and interactive follow-up training.
Speaking about the acquisition, Wombat President and CEO Joe Ferrara said, "Enterprises around the world now have access to the most innovative educational solutions to combat phishing attacks as well as all cyber attacks from one company. We look forward to building upon the momentum Wombat has already achieved, from record customer and revenue growth, to industry recognition by Gartner as a leader in the security awareness and training market."
Moving forward, we will combine features from PhishGuru and ThreatSim's simulated phishing and spear phishing products to deliver a best-in-breed solution for current and future customers who are seeking opportunities to change user behavior and reduce risk across their organizations.
Our goal is to develop the most fully featured and effective security awareness training portfolio on the market, and we believe this acquisition is a key to making that happen. "This is a great win for Wombat and ThreatSim, but most importantly for our current and future customers," said Ferrara.
ThreatSim has been praised for its user-friendly product interface and its excellent customer service. The blending of these capabilities with the Wombat Continuous Training Methodology will give ThreatSim administrators seamless access to additional security awareness and training tools. According to Jeff LoSapio, CEO of ThreatSim, "Discussions with our customers about this acquisition have been overwhelmingly positive and we are looking forward to continuing our growth trajectory while we satisfy the exploding demand for effective security education as part of Wombat."
Customers can currently choose ThreatSim as a standalone phishing assessment tool, with the opportunity to separately deliver other Wombat products, including our interactive training modules and our Security Awareness Materials for on-site reinforcement of key messages. Ultimately, however, ThreatSim's phishing solutions and related offerings will be integrated with the Wombat Security Education Platform, resulting in a comprehensive, feature-rich portfolio of products and services for assessment, education, reinforcement, and measurement. As part of the acquisition, ThreatSim's team of security practitioners, software engineers, sales, and customer support experts will join Wombat's team.
To learn more about the ThreatSim and PhishGuru products, visit the simulated phishing attacks page on our website.
Subscribe to the Proofpoint Blog