Over the past year, chats and virtual calls through platforms like Microsoft Teams have almost entirely replaced in-person, workplace interactions. With travel restrictions leading to an abrupt drop in business travel, collaborative sessions with geographically dispersed groups have moved online. Teams grew from 20 million users at the end of 2019 to 145 million daily active users by April 2021.
Teams brings together meetings, chat, calls, collaboration, third-party apps and business processes into a seamless experience as people communicate, collaborate and co-author content. But adopting a powerful tool like Teams without governance presents risks—from security risks like data loss to regulatory compliance risk due to not capturing, retaining or supervising content appropriately.
Recent Proofpoint innovations, like our Advanced Data Loss Prevention and our Content Capture for Microsoft Teams, can help you mitigate data loss and comply with retention and supervision rules as you roll out Teams. 
Proofpoint's advanced DLP for Microsoft Teams
As employees share sensitive messages and files, you must protect regulated data such as personally identifiable information (PII), protected health information (PHI) and payment card industry (PCI) data to ensure compliance. You must also monitor sharing of confidential content such as source code, design documents, legal documents or engineering documents to protect your organization from internal and external threats seeking to steal or compromise that information. 
Proofpoint Cloud App Security Broker (CASB) can help on both fronts. Proofpoint CASB is now a certified for Teams Data Loss Prevention (DLP) provider. Organizations can now use Proofpoint CASB to: 
Achieve near real-time Microsoft Graph APIs for Teams DLP. Proofpoint's solution provides an additional option for DLP in Teams beyond the DLP capabilities in Microsoft 365. Apply DLP action to Teams messages as well as files shared in chat, channels and meetings 
Leave behind "tombstones" after removing sensitive content to notify and coach Teams users of a DLP violation
Apply Microsoft Information Protection sensitivity labels to files and monitor the handling of confidential documents in Teams and across other cloud apps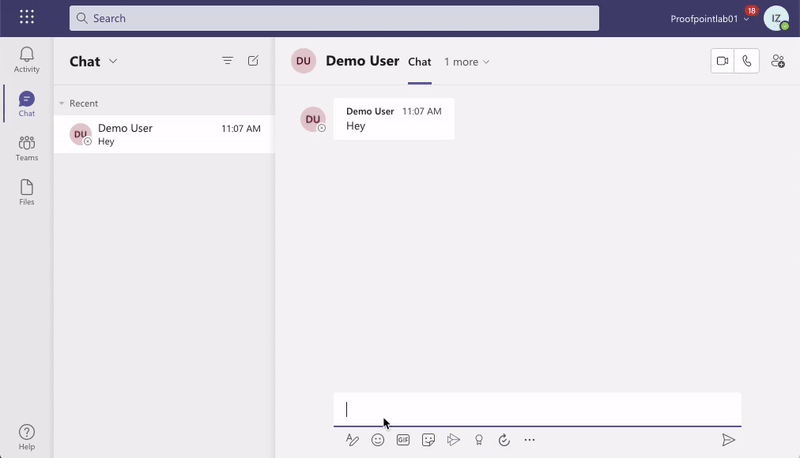 Proofpoint CASB is also an integral part of the Proofpoint Information Protection Platform. The platform is a new people-centric approach to protecting against data loss across email, cloud apps and endpoints. Beyond DLP for Teams alone, it bridges across all DLP channels using a common data classification framework.
Combining content-, user behavior- and threat-based telemetry with sophisticated analytics, the Information Protection Platform addresses the full spectrum of data loss scenarios of malicious, negligent and compromised users. With our unified alerts and investigations interface, your security and compliance teams can better prioritize alerts, respond faster and achieve a shorter time to value. 
CASB-supported cloud applications include:
Microsoft 365, including Microsoft Teams
Microsoft Azure
Google Workspace
Slack
Salesforce
Box
Dropbox
ServiceNow
Workday
Amazon Web Services
Okta and more
Capture and archive digital communications with Proofpoint Compliance Platform—Proofpoint is also a certified Microsoft partner for compliant content capture and archiving for Microsoft OneDrive, Exchange Online and Yammer—available on the people-centric Proofpoint Compliance Platform. The platform enables end-to-end regulatory compliance, e-discovery, and supervision across more than 30 digital communications platforms. 
"In today's distributed work environment, Microsoft Teams enables employees to stay connected and productive," said Hammad Rajjoub, Director, Product Marketing, Microsoft Compliance Ecosystem at Microsoft Corp. "The integrations with Proofpoint help ensure that our joint customers can address security and compliance needs while enabling employees to work from anywhere."
Learn more about Teams security and compliance
Learn how Proofpoint can help you secure Teams, stay compliant, and protect your people and data with  security and compliance tools for Microsoft 365.
Also, find out more about these Proofpoint solutions:
Subscribe to the Proofpoint Blog