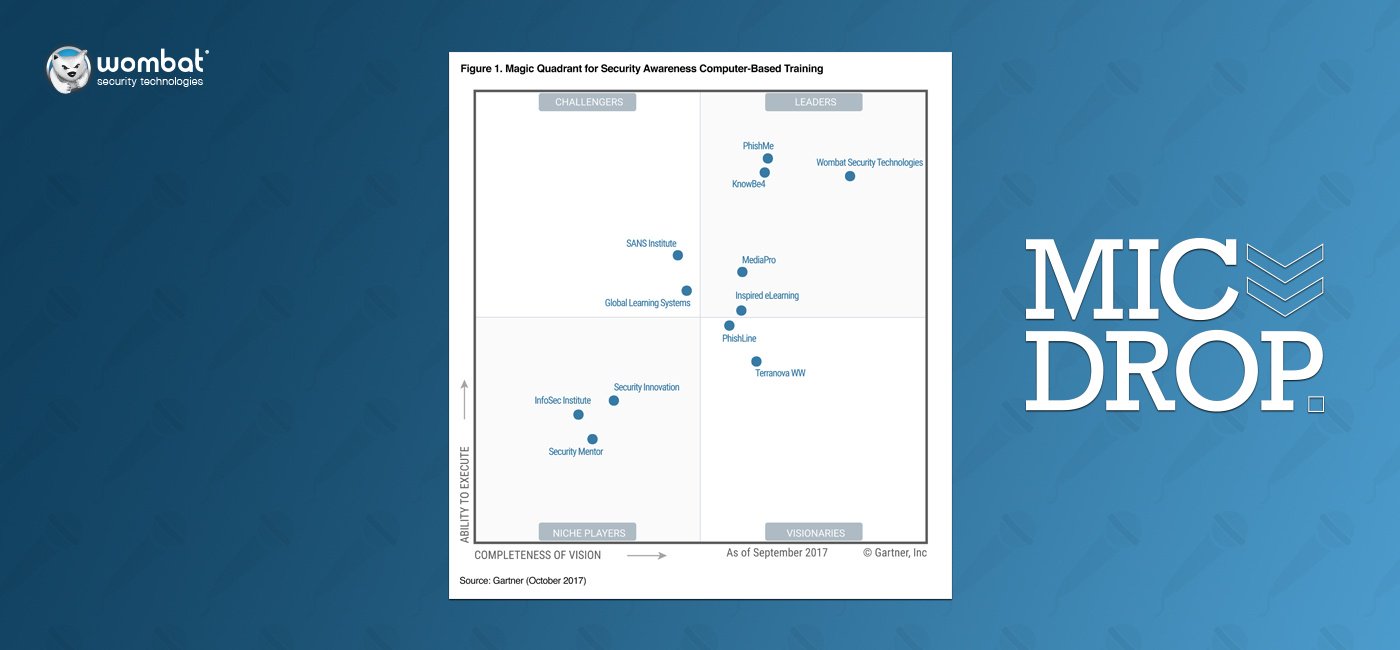 For the fourth year in a row, IT research and advisory firm Gartner, Inc. has recognized Wombat Security as a Leader in the Magic Quadrant for Security Awareness Computer-Based Training (CBT).* Our strong position this year reflects our Ability to Execute and Completeness of Vision — the latter of which Wombat was ranked highest.
"We believe our continued market leadership is the result of our best-in-class security education products, which deliver the most effective end-user behavior change," said Amy Baker, Wombat's VP of Marketing. "Unlike competitors with dozens of content options that are unprofessional and not taken seriously by learners, we engage end users with well-designed and engaging training that provides practical advice that helps them protect their organizations from constant attack."
Wombat was one of 12 vendors evaluated for this year's Security Awareness CBT Magic Quadrant. Gartner's evaluation criteria for Completeness of Vision — in which Wombat clearly leads the market — include market understanding, marketing strategy, sales strategy, product strategy and offering, business model, vertical/industry and geographic strategy, and innovation.
Gartner's Magic Quadrant approach provides a graphical competitive positioning of providers in fast-growing technology markets, and divides these providers into Leaders, Visionaries, Challengers, and Niche Players. The goal of this visual representation of the market is to help you quickly see which technology providers are positioned to help your company succeed over the long haul.
Our Vision for Security Awareness Training
Over the past year, we have worked hard to satisfy our customers and lead the market by delivering enhancements to our portfolio and platform, as well as publishing compelling new research about security awareness and training. Using our Continuous Training Methodology, Wombat customers have seen up to a 90% reduction in successful external phishing attacks and malware infections, as well as fewer helpdesk calls and increased employee reporting of incidents.
Following are a few of the noteworthy advancements we've made over the past 12 months.
New Training Modules Targeting Email Security, GDPR Compliance
This year, we've launched several new training modules, and enhanced our cybersecurity education portfolio in ways that make it more useful and effective for global organizations.
Recent additions to our interactive anti-phishing training portfolio include Securing Your Email – Fundamental and Securing Your Email – Advanced. The Fundamental series targets cybersecurity best practices surrounding three key phishing threat vectors: malicious links, infected attachments, and requests for login credentials and other sensitive information. The Advanced series provides heightened training and educates employees about best practices with mobile email, an important topic given that users regularly store company information and access corporate systems via their mobile devices.
We also released a module designed to help global organizations prepare for compliance with a looming standard: the General Data Protection Regulation (GDPR). This new training module will help organizations avoid regulatory fines and preventable breaches by improving employee understanding of these sweeping new European privacy laws.
Multinational Support in More Than 30 Languages
Today's multinational organizations need the ability to provide a consistent, concise cybersecurity message to all employees. Now, we can help you deliver assessments, training, and reinforcement materials in more than 30 languages. What further sets these translations apart is our use of localized content — including references to regional currencies, names, locations, dates, and time formats — to make our training more culturally relevant and meaningful to users around the globe.
Raising Awareness with Video Campaigns
Training modules are just part of the new content we've made available this year. Back in February, we launched our new Awareness Video Campaigns. These short, lighthearted videos — along with companion posters and images — help our customers raise awareness and keep cybersecurity top-of-mind for their employees.
Spreading the Wombat Wisdom
In September, we welcomed current and prospective customers from the US and EU to Pittsburgh, PA for our third annual Wombat Wisdom Security Awareness and Training Conference. More than 200 attendees visited for two days of sessions and speakers, including an overview of our upcoming strategic roadmap. The user conference has continued to grow and draw overwhelmingly positive feedback since its inception in 2014. We hope you will join us in 2018!
Shortly after the conference, we celebrated Cyber Security Awareness Month by releasing a free toolkit for infosec professionals. The interactive "Best Behavior Bingo" campaign offers a series of resources designed to engage employees and raise awareness of important cybersecurity topics; these tips and best practices are also easy to share with suppliers, vendors, and other third parties in your supply chain, improving awareness across your business ecosystem.
New Research into Cybersecurity Awareness and Training
We also published several cybersecurity reports based on our own data and third-party surveys. We released new editions of our compelling and widely quoted State of the Phish™ and Beyond the Phish™ reports and debuted a new study, our 2017 User Risk Report, which featured the results of a survey of 2,000 working adults in the US and UK. All three pieces of research reveal the need to close the end-user knowledge gap and are excellent resources for any organization that wants real-world proof points about end-user risk management.
Looking Ahead to 2018
Gartner's recognition of our efforts over the past year is gratifying; it also highlights our continuing growth as a company and market leader. Our founders pioneered the use of simulated phishing attacks, and we've continued that tradition of innovation. We are always working to bring more advanced security awareness and training solutions to more people around the world.
In speaking about the Gartner MQ and our vision for the future, Wombat President and CEO Joe Ferrara noted, "We believe that our placement shows a clear differentiation of our solution as compared to our competitors. Our focus to further expand our reach into the European and Asian markets will enable us to provide customers across the world with the market-leading tools and knowledge they need to keep their company and end users safe."
* Source: Gartner, Magic Quadrant for Security Awareness Computer-Based Training, Joanna G. Huisman, 26 October 2017. 
Please note: Gartner does not endorse any vendor, product or service depicted in its research publications, and does not advise technology users to select only those vendors with the highest ratings or other designation. Gartner research publications consist of the opinions of Gartner's research organization and should not be construed as statements of fact. Gartner disclaims all warranties, expressed or implied, with respect to this research, including any warranties of merchantability or fitness for a particular purpose.
Subscribe to the Proofpoint Blog